Natalie Portman Would Like To Have A Word With Men Who Call Women 'Crazy'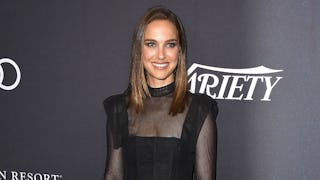 Image via Getty/Steve Granitz
Natalie Portman is here to banish all men from calling women 'crazy' and 'difficult'
If you're a woman, you've almost certainly been dubbed "crazy" or "difficult" by a man at some point in your life. Well, Natalie Portman isn't here for it — and she brilliantly calls out all men who partake in the habit of describing women this way.
During her acceptance speech as an honoree at Variety's Power of Women event, Portman offered a list of advice about increasing equality in the workplace and in the world between men and women. While there were several amazing points broached, one in particular seems to have had the biggest effect.
"Stop the rhetoric that a woman is crazy or difficult," Portman says. "If a man says to you that a woman is crazy or difficult, ask him: what bad thing did you do to her?"
You can hear the cheers and applause in the audience immediately — because we have literally all been there. Whether it's during a meeting at work among our male colleagues or, more often than we'd probably care to admit, in our own homes with our own husbands or relatives.
This is especially poignant in the aftermath of the Weinstein abuse, as we've since learned he was singlehandedly responsible for destroying the careers of actresses like Ashley Judd and Mira Sorvino by dubbing them "too difficult to work with" because they weren't receptive to his sexual misconduct. Another actress comes to mind for me personally — Katherine Heigl. From Knocked Up to Grey's Anatomy, we've heard the same tired story that Heigl is too difficult, too demanding, too "this," too "that." You never hear that about a male actor. Ever. And even if you do (Johnny Depp, Sean Penn, Russell Crowe, James Franco) — they still get work. And lots of it. It's bullshit.
Women everywhere shared their appreciation for Portman's words.
https://twitter.com/jetpack/status/1050934584185999360
https://twitter.com/jetpack/status/1050897852824604672
"Light a woman's torch," Portman concludes. "The light will multiply and the heat will intensify for all of us." You can watch her speech in its entirety here.