Natalie Portman Is The Next Thor And The Male Tears Are Flowing
by Christina Marfice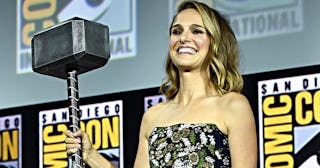 Alberto E. Rodriguez/Getty
A female Thor? It's happening, but men are apparently not ready
San Diego Comic-Con is in full swing, which means announcement after announcement about what's coming in future installments of all the nerdy things. Among them, one of Marvel's upcoming installments, Thor: Love and Thunder. Onstage during a panel, its stars revealed that a new Thor will be picking up the hammer during that movie, and that new Thor will be played by… Natalie freaking Portman.
That's right, Portman's past MCU character, Jane Foster, will be returning, but this time, with a lot more power. Portman made the announcement herself on her Instagram, posting a photo of herself on the Comic-Con stage alongside costars Chris Hemsworth and Tessa Thompson, who's set to play Valkyrie in the upcoming movie.
"So thrilled to share the news with you today at #sdcc2019 that I'll be returning to the @marvel #mcu as female Thor with legends @taikawaititi @tessamaethompson and @chrishemsworth," Portman wrote, joking, "Remember this as the before picture for when I get jacked."
It's not like this idea and announcement came out of nowhere. Having a woman step into the leading role in this story is already canon in the comic books the Marvel movies are based on. In a 2014 storyline in the comics, Thor loses his power and renounces his name. It's Jane Foster, the character Portman already played in the franchise, who takes control of the hammer Mjolnir and becomes the Goddess of Thunder, ultimately taking Thor's name — and job.
But the fact that this is literally how the story in the source material goes hasn't stopped a lot of men from being very upset about it. As one can expect, Twitter is full of male tears over the fact that the role of a powerful role model went to someone who is not a white man. In 2019 — shocking, we know.
A lot of people are trying to justify their fragility and rage by saying there's no female Thor in Norse mythology, which, granted, is the basis for the Marvel character… sort of.
But the MCU is definitely not Norse-based, and there's no denying that this storyline comes directly from the comics, which is the basis for all the Marvel movies. Honestly, the rage is just kind of confusing.
This also comes hot on the heels of a similar controversy, when Disney announced that black actor Halle Bailey will play Ariel in its upcoming live-action Little Mermaid remake, and people absolutely lost it over the fact that a half-fish cartoon character would be portrayed by someone with non-white skin.
Look, everyone, it's 2019. We stan diversity and representation. Women, people of color, and people of all sizes and abilities can be onscreen, and the world will be a better place for it.