Natalie Portman Will Be The First-Ever Female Thor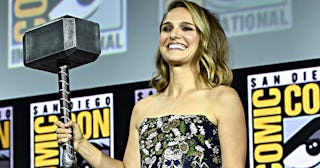 Alberto E. Rodriguez/Getty Images for Disney
Natalie Portman was officially given Thor's hammer at San Diego Comic-Con
Some big news was unearthed at San Diego Comic-Con yesterday: the story of Thor is not over, despite the fact that the Avengers: End Game premiered earlier this year. Though instead of admiring Chris Hemsworth as the God of Thunder, a whole new actor is stepping up to receive the hammer: Natalie Portman.
Thor: Love and Thunder was announced yesterday along with a host of other Marvel movies at Comic-Con. It will be the fourth movie in the series and will bring back Natalie Portman's Jane Foster character as Lady Thor alongside Chris Hemsworth, plus Tessa Thompson and director Taika Waititi. The film, which is slated to come out in 2021, was inspired by Waititi's readings of The Mighty Thor series and female Mighty Thor.
Once she appeared onstage, Waititi handed Portman the famous hammer, Moljinir, by dropping to his knees in a faux ceremonial way (also, hi, hello, Taika Waititi — if you've been sleeping on him, now's your chance to get caught up on how awesome he is).
Portman wasn't part of Thor: Ragnarok, but we can't wait to see her as Lady Thor. Mostly because she's incredible in everything she takes on as an actor, and also because HELLO A FEMALE THOR. "That storyline is incredible is full emotion, love, and thunder and introduces for the first time female Thor," Waititi says.
Naturally, because the Marvel Comics Universe is an undeniable hit with its fans, people had lots of thoughts and feelings about this casting news.
In addition to Portman's casting news, Marvel announced the lineup of several new movies and equally perfect casting choices.
Angelina Jolie, Natalie Portman and Scarlett Johansson all arrived at San Diego Comic-Con's Hall H to share the exciting news with fans. Jolie officially confirmed she will be starring in The Eternals alongside costars Richard Madden, Salma Hayek, Kumail Nanjiani, Brian Tyree Henry.
Also, Scarlett Johanssen's Black Widow will be getting a standalone movie, scheduled to premiere next spring. And MCU fans were exceptionally ecstatic at the announcement of a new Blade movie, starring none other than Mahershala Ali.
Endgame saw Thor leave New Asgard behind, leaving Tessa Thompson's Valkyrie in charge of the kingdom. While it's unclear exactly what events will unfold to lead towards Portman's Jane Foster becoming Thor, it's incredibly exciting to see a powerful female lead comic book hero.
Both Wonder Woman and Captain Marvel have had such a huge impact on young girls everywhere — it's undeniable that the power of representation on-screen is incredibly valuable. Cheers to MCU for giving us another reason to stan.
This article was originally published on