More Than 150 National Guard Members Test Positive For COVID Since Inauguration
by Christina Marfice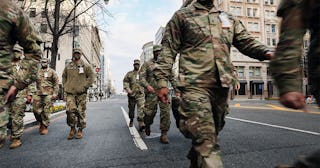 Spencer Platt/Getty
Since they were deployed to Washington, D.C. to guard Joe Biden's inauguration, more than 150 National Guard members have tested positive for the virus
Joe Biden's inauguration went off without any major security problems, and that's at least part in thanks to the National Guard troops who were deployed to Washington, D.C. from all over the country to protect the Capitol after Donald Trump incited a deadly mob that occupied the building on Jan. 6. Photos went viral of the troops sleeping on the Capitol floor, and Joe Biden issued an apology after the inauguration after some troops were reportedly told to sleep in a parking garage. Now, after they spent days in close quarters protecting the Capitol, we're seeing the effects of that situation: Between 150 and 200 National Guard members who were deployed to Washington have tested positive for the coronavirus.
An official, who spoke on condition of anonymity, told Reuters about the number of positive tests, but stated that it was still a small number relative to the 25,000 troops who were deployed to Washington, D.C. in the aftermath of the riots. In a statement, the National Guard said it would not discuss COVID cases among soldiers who were in Washington, but said that all Guard members were following protocols set forth by the Centers for Disease Control and Prevention, including temperature checks and health screens before leaving their home states and upon arrival in the city.
If definitely doesn't help that they've spent so much time in such close quarters. "Ideally, these guys should all be in hotels. When they're taking rest time, they should be taking it outside the campus with an ability to be separated and socially distanced," Sen. Chris Murphy (D-Conn.) said. "Ultimately we've got to make sure that they're not taking their extended rest time on campus, that they're in hotel rooms."
The National Guard isn't the only group seeing a large number of COVID cases after the past few weeks of events. After Trump supporters — most of whom had traveled from all over the country, and very few of them wore masks or distanced — mobbed the Capitol building, at least 38 Capitol Police officers tested positive for the coronavirus.
Around 7,000 National Guard troops are expected to remain in Washington through the end of the month, while the military is working to make travel arrangements to send 15,000 of them home in the next five to 10 days. The remaining 5,000 soldiers who are still in D.C. are expected to stay through mid-March, but officials said that could change at any time.
The U.S. has continued to see surges in COVID cases and deaths. On both Wednesday and Thursday last week, deaths from the virus topped 4,000, making those two of the deadliest days in the pandemic so far (and two of the deadliest days in American history). Several parts of the country are battling explosive new outbreaks, likely caused by gatherings over the holiday season.