The First National Monument For Survivors Of Sexual Violence Is Unveiled
by Thea Glassman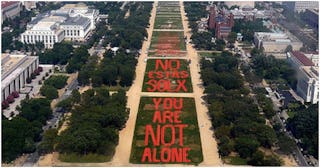 Monument Quilt
The Monument Quilt display stories from thousands of survivors
It's so incredibly important for the voices of survivors to be heard. This weekend, thousands will have the chance to share their stories in a public, profound way. The Monument Quilt is the first national monument for survivors of sexual assault and it's being unveiled at the National Mall in Washington D.C. from May 31-June 2, the Huffington Post reported.
The quilt displays the words of 3,000 survivors of rape and abuse, sewn into red fabric. When viewed collectively, the Monument Quilt reads "You are not alone," in both English and Spanish. The concept was created and orchestrated by the organization FORCE: Upsetting Rape Culture and features stories collected from survivors and their allies all across the country.
"By stitching our stories together, we are creating and demanding public space to heal," the organization explained on their website. "The Monument Quilt is a platform to not only tell our stories, but work together to forever change how Americans respond to rape. We are creating a new culture where survivors are publicly supported, rather than publicly shamed."
Each square, written in a mix of English and Spanish, contains powerful, important messages of pain, trauma, strength, solidarity, and resiliency. "I'm still afraid to be touched," one read. "I'm ready to start healing."
Another person wrote: "I no longer will have molestation be the cause and my life the effect. My life experience is valid. I won't be silenced. I will no longer live a life of lies. I will honor my truth. You are conquerable."
People took to Twitter and Instagram to share their own experiences viewing the quilt in D.C., posting powerful photos and commenting how deeply important the display was.
Organizer Kalima Young told The Huffington Post that the project aimed to highlight diverse, marginalized voices, who are so often excluded from the conversation. She also added that she hopes the quilt gives survivors a voice and a safe space to be heard.
"We want folks to understand that they're not alone and they're part of a community," Young said. "As we say all the time: We hear you, we see you, we believe you and you are not alone. And that's what we hope people experience when they see the quilt."