You Can Get Into Every National Park For Free This Saturday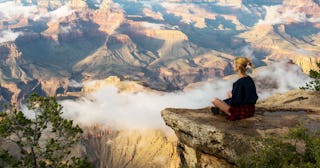 Wolfgang Kaehler/LightRocket/Getty Images
In honor of National Park Week 2019, admission is free for everyone
If you've been meaning to hit up a national park this spring or are simply looking for a fun family activity this weekend, guess what? You can get into any national park this Saturday, totally free of charge. The amazing deal is in honor of National Park Week and means free admittance to famous parks including Yosemite, Muir Woods and Joshua Tree.
According to KQED News, every National Park Service site that typically charges visitors an entry fee will be free this Saturday, April 20. No worries if you can't make it because there are three more free admission days happening this year — August 25, September 28, and November 11.
The National Park Service says, "National parks are America's best idea, and there are more than 400 parks available to everyone, every day. The fee-free days provide a great opportunity to visit a new place or an old favorite, especially one of the national parks that normally charge an entrance fee. The others are free all the time. The entrance fee waiver for fee-free days does not cover amenity or user fees for activities such as camping, boat launches, transportation, or special tours."
Among the parks included are Muir Woods, located in the Bay Area and full of ancient redwood trees. Usually admission to this park is $15 per adult.
Joshua Tree located in Southern California is also an option with its gorgeous trees and scenic desert views. It's normally $30 per car.
There's also Bryce Canyon in Utah where admission is usually $35 per vehicle.
April 20th is also Junior Ranger Day where kids can experience fun activities and learn all about being a real ranger at a national park. You can check for activities and events at the park you plan on heading to. "The Junior Ranger Program is a great way to explore national parks, get some cool swag, and maybe even one of those coveted hats the rangers wear! Well…okay. Yours might be made out of paper, but you'll still rock it! You'll also learn why national parks matter and how you can be a part of the team that helps keep parks healthy," their website reads.
Sounds like a total blast and the fact that it's free is even better. To find a specific park's admission information you can check here. Enjoy a beautiful day out in nature — with no wallet damage at all.
Well, maybe at the gift shop.