Here's Where You Can Get All Your Freebies For Teacher Appreciation Week
by Thea Glassman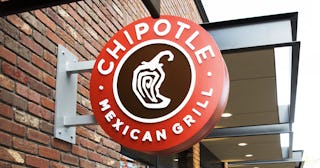 JASON REDMOND/Getty
Teacher Appreciation Day and Week comes with a ton of delicious discounted and free goodies
Listen up, educators everywhere. May 7 is Teacher Appreciation Day and this whole week is Teacher Appreciation Week, which means all of your hard work and awesomeness is going to be celebrated in some very delicious ways. There are a whole bunch of food places that are offering freebies and discounts to celebrate YOU on your special day so prepare to get your grub on.
First, the fine print. In all cases, be sure to bring your valid school ID with you and call ahead of time to confirm that your local restaurant/fast food place/drive-through is participating in the day.
Now, onto the good stuff. If you head to Chipotle, they're offering a buy-one-get-one free deal from 3pm to closing. So, that probably means you should bring your non-teacher friend to foot the bill for the first burrito. It's your time to shine.
Head to Cicis, where teachers and school staff members can snag a totally free buffet with this coupon. You know what that means: so, so many macaroni & cheese pizzas AND those really hot cinnamon dessert buns.
https://www.instagram.com/p/BsI7P5PFNfm/
There's also some participating McDonald's that are offering free chicken nuggets to teachers. We're really, really lovin' it.
Head to Potbelly Sandwich Shop for a buy-one-get-one-free deal Monday-Sunday. Again, I'm sure your non-teaching friend will happily buy the first sub. Bring on alllll of the salami and ham.
If you want to satisfy your sweet tooth, Sonic is giving away a free Route 44 drink or slushie with your purchase. Just download the company's app and enter the promo code TEACHERS. The brain freeze will be totally worth it.
https://www.instagram.com/p/Bw4d2VHg-Za/
In the mood for even more pizza? Head to Grimaldi's where teachers can get 15% off their meals Monday-Friday. Sadly, New York, New Jersey and Connecticut restaurants are not participating.
https://www.instagram.com/p/Bw4l3sqlVyU/
There's nothing quite as delicious as a burger and a frosty shake. Snag a free shake at Hopdaddy Burger Bar and celebrate all of your hard, hard work.
Need a pick me up? Head to Bruegger's Bagels for a free medium drip or iced coffee with your purchase. Much-needed energy in a cup.
https://www.instagram.com/p/Bw41QmwlW_Y/
Enjoy all these yummy treats, teachers. We love you and appreciate you ridiculous amounts.
This article was originally published on