Thousands Sign Petition To Celebrate Halloween On A Saturday Every Year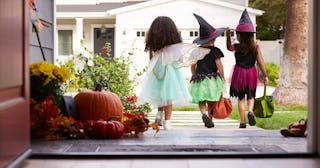 Three Children In Halloween Costumes Trick Or Treating
Instead of changing Halloween, petitioners want to add an extra day of fun
You may remember the buzz last October around changing the date of Halloween to the last Saturday of the month to accommodate working parents, small kids, and generally trying to avoid "two rushed evening weekday hours" after school and work. There was an official Change.org petition and everything — and a new, slightly modified version now has enough signatures to petition the White House.
The petition, originally created by the Halloween & Costume Association in 2018 called the "Saturday Halloween Movement," wanted support to officially move Halloween, saying it would allow more time to celebrate, Trick-or-Treat, throw a party, and eat your body weight in candy — all in a more relaxed manner. The movement recently regained steam amongst parents and has now earned more than 130,000 signatures in just a few days, not to move Halloween but to create another holiday for the last Saturday in October called "National Trick-Or-Treat" Day.
"Instead of changing the date that American's celebrate Halloween, we will be adding an additional day of festivities in partnership with Party City and other brands," the Change.org petition said. "National Trick or Treat Day will take place annually on the last Saturday of October so families across the country can participate in community parades, throw neighborhood parties and opt for daytime Trick or Treating."
For what it's worth, at least one candy giant was into the original petition and upped the game by offering free candy bars if it passed:
Other reactions have been mixed:
The National Retail Federation reported people spent $9 billion (that's billion with a B) on Halloween-related purchases in 2018 alone, so having one more day to showcase your spooky decor could be cool. Or you could be like my neighbor and keep your Halloween decorations up through Thanksgiving. Either way — I'm not judging. (I'm sort of judging.) Then again, for people wishing to Trick-or-Treat on Halloween, does this mean we also have to have candy on hand for a Saturday celebration as well? I'm all for additional candy consumption but that could add up for folks.
The petition lists a handful of stats about Halloween-related injuries that occur when kids are out knocking on doors, saying there are 3,800 injuries reported every year and that everyone would be safer if they could Trick-or-Treat during the daylight. But it's not just for the little ones; 51% of millennials say Halloween is their favorite holiday, so adding another holiday gives kids of all ages more time to celebrate.
Now that the petition has over 100,000 signatures, they can officially send it on to the White House. If it is passed, an update will be issued within 60 days and we will officially have two formal holidays in which to get our spooky on. Two days of candy, costumes, decorations, and frights? Um, sounds good to us.
This article was originally published on