Native Women Are Going Missing At An Alarming Rate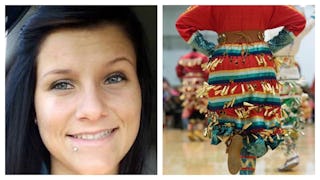 missing.murdered.natives / Instagram mmiwhoismissing / Instagram
"Indigenous women go missing twice: once in real life and a second time in the news."
This quote from Lauren Madison, one of the founders of Save Wiyabi Map, is one of many powerful statements I have read regarding an epidemic plaguing Native women in the United States and Canada: Native women are being taken and killed at alarming rates and no one seems to be talking about it.
And, we need to be talking about it. Loudly.
In April 2015, Edith Chavez was abducted in 2015 from Minnesota and taken to Williston, North Dakota. She managed to escape and report the incident to Williston police, but instead of taking her statement, they checked her record, charged her for an unpaid 2011 traffic ticket, and detained her.
Yes, you read that right. And, as fucked up as this story is, it isn't unique. In fact, three Native American women were killed and two more have disappeared from northern Minnesota between May 2015 and January 2016 alone. Just northern Minnesota.
The CDC reports that Native American women and black women are the two demographics with the highest murder rates in the United States. For young Native women ages 10-24, the third leading cause of death is homicide. These are the reported cases.
But the reality is that these numbers don't reflect the number of missing Native women whose disappearances remain unsolved. Even after family and friends report their loved one's as missing to tribal law enforcement or local police officers, answers and closure are not often found. The assumption is that when Native women go missing, they will not be found alive.
The problem is that there is not a comprehensive system or even a database to collect information about missing and murdered indigenous women.
This lack of what seems like basic technology isn't because this is a new problem. Violence against Native women and girls is an ongoing part of their narrative. From Euro-American invasions and slave trades to anti-indigenous violence and domestic violence within tribes, Native females have always been at risk. And with a murder rate 10 times the national average, and percentages increasing over time, the ongoing risk to indigenous women seems inevitable.
The ongoing pattern of violence is long and complicated. A large contributing factor to the problem is mistrust and a lack of communication between local law enforcement, tribal law enforcement, and federal agencies. Native people are more likely to be killed by police officers than any other minority group in America. And Native women are often assumed guilty (not innocent), which means they are not first seen as victims of physical assault, rape, or even murder.
A report published by the U.S. Government Accountability Office looked at investigations regarding human trafficking in Indian Country that involved Native Americans. It showed that while federal agencies may collect data on human trafficking in Indian Country, they fail to indicate if the victim is Native American. The agencies stated that this detail would not affect their investigation.
However, law enforcement agencies in Indian Country also reported a reluctance of Native American victims to participate in the investigation — which tribal leaders believe stems from drug addiction (which can be tied to domestic violence) and a Native woman's mistrust of local law enforcement agencies. The bottom line is that we are not getting the full story and these women are not getting the help and attention they need.
"Native women are not often seen as worthy victims. We have to first prove our innocence, that we weren't drunk or out partying," said Carmen O'Leary — a member of the Cheyenne River Sioux Tribe of South Dakota who also serves as the coordinator of the Native Women's Society of the Great Plains in South Dakota. Her mission, along with other members of the coalition, is to provide services to keep women safe in their own communities.
I am ashamed to admit that I wasn't aware of how at risk Native women and children are in Canada and the United States. The Coalition to Stop Violence Against Native Women is working hard to bring awareness to the forefront of our minds, though. One of the movements under the CSVANW guidance is the Missing and Murdered Indigenous Women movement (MMIW).
A 19-year-old college freshman, Marita Growing Thunder recently went on an 80-mile Save our Sisters walk through the Flathead Indian Reservation to bring awareness and understanding to the MMIW movement. Reactions of onlookers were mixed. In one interview, Growing Thunder referenced white men shouting racial slurs and spitting at her. She was encouraged, however, by the people who wanted to know how they could help her cause.
Thankfully, there are ways to help. One way is by talking to your local legislators. Ask them to support Savannah's Act — a bill that would standardize law enforcement and justice protocols and require the Department of Justice to offer help to tribes and local law enforcement so the new protocols can be implemented. This bill would also allow data tracking of missing and murdered Native Americans.
And because there isn't a database for missing and murdered Native women, you can get behind the Red Ribbon Alert Project. When a Native woman goes missing, the project sends out an alert system through their app. Liking the Red Ribbon Alert Project Facebook page allows you to post and share alerts in your community.
Money is always good too. Donate to the Coalition to Stop Violence Against Native Women or other national organizations dedicated to ending violence against indigenous women and children.
And talk. Talk about this horrific problem. Talk about these women. Just because these crimes against missing and murdered Natives are not being documented, that doesn't mean they don't exist. Bring awareness to this issue, amplify it in your community and on your social media platforms.
These women may not show up on statistic sheets, but they should haunt our conscious thoughts every day. Let's do something about this. Now.