These 6 Natural Products That Work As Hard For Your Family As You Do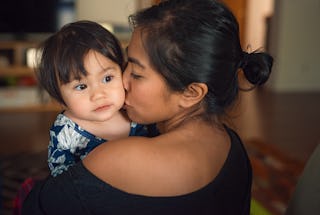 It's safe to say we're all striving to use products that incorporate more natural ingredients and fewer chemicals. If you can't pronounce it, your kids probably shouldn't soak in it, right?
But sometimes I can't help but wonder (cue Carrie Bradshaw at the laptop): Do those "safe and gentle" products actually WORK? I mean, of course they work but can they really handle the professional-grade grime my kids seem to attract on a daily basis? Can a deodorant without aluminum or baking soda keep my husband smelling less, we'll say "earthy?"
All valid questions. And the good news is that we've found some great options that sidestep the weird additives but still get the job done.
Hair Cleansing
Growing up, I don't remember ever giving the list of ingredients in my shampoo a second look. Now that I'm a mom, it's the first thing I look at. It's 2020, folks. This combination shampoo + condition hair cleansing wash swaps out sulfates and other not-so-nice additives with evening primrose and peppermint oil, plus a full range of other natural ingredients for a new way to wash your hair.
Deodorant
Everyone wants a deodorant that can handle the job of keeping you smelling fresh without chemicals that irritate your skin. Ivory Gentle Deodorant is designed to be gentle on skin but powerful enough to get the job done. Its dermatologist-tested formula has none of the stuff we want to avoid like aluminum, parabens and phthalates; and it's made without baking soda which can irritate sensitive skin. Instead, it's made with moisturizer and sea salt so it's gentle on your skin but also effective. In our house, a long-lasting deodorant that's actually effective is an essential and Ivory deodorant offers 24-hour protection.
Sunscreen
We know skin needs protection from the sun's harmful rays but we also know a daily dose of Vitamin D is good for all of us. Have you ever looked at the issues with sunscreens, especially ones for kids? Yikes. We found a long-lasting, pediatrician-tested sunscreen that's fragrance-free and gentle on skin but also lasts for 80 minutes. And it's water-resistant without the weirdly long list of chemicals typically found in sunscreens.
Leave-In Conditioner
A leave-in conditioner is perfect for nourishing hair in a hurry. And ideally it leaves hair manageable — especially when kids want to do it themselves. (Nothing like a tween who's discovered the bathroom mirror.) For the hardest working conditioner free of isopropyl alcohol and sulfates, use one with natural ingredients like quinoa(!) and baobab proteins to keep hair shiny.
Lip Balm
Lip balm is one of those things you use all year-round. Since you literally put it on your mouth, it's important that you get one that doesn't contain all sorts of weird stuff. A clean organic formula with coconut and jojoba oil leaves lips like buttah.
Hand Cream
Washing hands as much as we're supposed to can be rough on hands and cuticles. Dry, chapped skin needs something to smooth and soften it without gross stuff like petrolatum. Once again, good old coconut oil comes through! This Vitamin A, C and E-rich hand cream is nongreasy but up for the job of keeping your hands from turning into talons.
It may take a little bit of extra searching. But you really can find skin and body care products without harsh additives that actually work.
Free of dyes and heavy perfumes, Ivory celebrates over 140 years of bringing simple clean to families everywhere. Ivory's new products are designed to be gentle on skin using pure and purposeful ingredients for generations. Visit Ivory.com to learn more.
This article was originally published on