These Nature-Based Classrooms Are Magical, And We Need More Like Them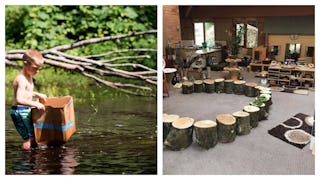 madlivn design & photography
Everyone knows that kids benefit from outdoor play.
At the last count, a survey of 12,000 parents across 10 countries found that half of children ages 5–12 spend less than an hour outside every day. One-third log less than 30 minutes. As Treehugger points out, this is less than maximum-security inmates who are guaranteed two hours of outdoor rec time. Yikes.
And we know kids desperately need time outside. They need to "spin, flip, roll, climb, hang, race, or shimmy," says Angela Hanscom, a pediatric occupational therapist, who says that she sees children who can no longer "tolerate wind in their face, [and an] increasing number who actually fall off their classroom chairs." She adds, "Movement through active free play, especially outside, improves everything from creativity to academic success to emotional stability. Kids who don't get to do this can have so many issues, from problems with emotional regulation—for example, they cry at the drop of a hat—to trouble holding a pencil, to touching other kids using too much force."
And so Hanscom founded TimberNook, which the Huffington Post calls a "therapeutic outdoor program for kids" and she calls "an innovative nature-based program designed to challenge the senses and inspire creativity, imagination, and independent play in the great outdoors." Hanscom wants to combat all that modernity has constrained in our children. Through "sensory-rich experiences," TimberNook seeks to "inspire, restore, and challenge the mind and the body." It strives "to be the 'living example' of what real, authentic play should look like."
TimberNook believes outdoor play is "inherently therapeutic" and that kids need "time and space to move their bodies." They believe "children deserve distance from the adult world regularly." And they believe that "ample outdoor play benefits children physically, mentally, and emotionally."
In other words, my inner child is beating their door down.
Then my inner child saw their classrooms and busted through the door like the Kool-Aid Man, y'all.
TimberNook "provides ample time for children to explore their surroundings, create, build, design, take risks, and dive into their imagination — all while fostering a love for the great outdoors." This doesn't mean that they just let kids loose in the woods to Lord-of-the-Flies-it-up.
Kids balance on bundles of logs. Kids balance on logs, like, logs that are in the air and more than 1 foot off the ground. Two little girls stand waist-deep in water, count to 3, then put their faces in. Another kid catches some unidentifiable water creature. They hang from homemade log ladders. They climb ropes strung between trees. They swing in dizzyingly fast circles on some giant wooden platform. Angela says, "We often see children create societies, their own forms of currency, secret languages, and more at TimberNook. However, they are given hours and hours of free play and the adults are often 'hidden.'"
They are being children. They are living their best life and thriving.
Depending on the location, there may be giant climbing trees or enormous mud puddles (rolling in them is encouraged). There may be sheep in New Zealand or giant sand dunes to sled down in California. And they get props to enhance their creativity too. TimberNook calls these additions to the woodland classroom "loose parts," and they include things like "tires, bricks, sticks, baskets, PVC pipes, etc., any material that can be moved around." They encourage kids to cook things over open fires.
The real question is: Does TimberNook do adult classes, and can I join? I could stand to work on my vestibular skills, and roll in a giant mud puddle, then maybe start some kind of mud-bomb war with the adults on the other side of the woods. Everything about this sounds amazing. Magical.
Basically, these outdoor classrooms are #allthethings kids need to grow, learn, and thrive — and have a blast while they do it. We need more of them. For the kids' sake, and maybe for our own.