11 Naughty Gifts To Make The Holidays Extra Nice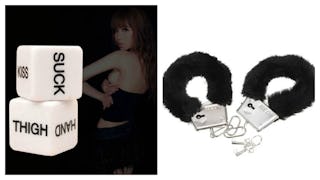 WALMART.COM
The days are shorter and colder and it's time to warm up with your partner and create some holiday magic together, or on your own. So, trim your tree and try out some our favorite naughty gifts that will make spreading Yuletide cheer extra exciting this year.
RELATED: The Steamiest Free Literotica-Style Online Erotica We Can Find
Something red and pretty makes us all want to spread some holiday cheer. We love this flattering number, and your partner will love getting greeted after the kids are in bed with you wearing this holding a plate of cookies.
Fuzzy cuffs (with a key) make the perfect stocking stuffer and might be a nice surprise to find under your pillow at night.
A Vibrating ring can bring sexy time to the next level. Make sure you grab this 3-pack — you will be glad you did.
Remote control toys aren't just for our kids. This vibrator comes with a remote control so your partner can take you for a test drive. A fun way to get you warmed up before some lovin' for sure.
Have an adult only game night with these erotic dice that are sure to give you plenty of ideas about how you can burn off that fruit cake you had for breakfast.
Everyone needs their our lube to store in easy reach. This set will have everyone covered and feeling fine when it't time to get it on.
Maybe you're in a rut, or you want to turn the heat up for a month and find some new ways to make each other moan. The "A Month of Sex" game will keep things interesting for sure — just make sure you don't play by the rules.
This is not the rabbit of yesteryear. She's evolved, folks and you are going to want to want some of this. Trust.
There are times when we'd like our our man to walk around in something sexy too. Nothing says, "Let's meet under the Christmas Tree tonight" like a mesh duo.
This vibe is the perfect little friend you can throw in your purse and the best part is it's disguised as just another lipgloss rolling around in your bag.
Put the kids to bed then multitask by wearing your dessert and giving into all your sweet tooth cravings with a pair of strawberry and chocolate edible undies. This pair for couples is so good, you might even want seconds.
Tis' the season to pull out the yule log and get yours. Trust us, these fun products will help you with your holiday glow and you'll be riding in the New Year on a high note. Hopefully, a very high note.
We are a participant in the Walmart.com Affiliate Program and may earn fees by linking to Walmart.com and affiliated sites.
This article was originally published on