Navigating Life As A Traveling, Working Mom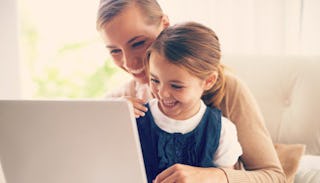 PeopleImages / iStock
How do you travel for work with two young kids at home?
This is the question I am asked at least once a week, because I usually travel a few days out of the week and have a 4- and 6-year-old at home. The response I'd love to give goes something like this: "Well, I usually pack my bag the night before, head to the airport the next day, park, get on the plane, work, get on the plane, come home, beg husband to do my laundry, realize begging is fruitless, and start a load." That's it. Alas, I know they aren't asking for my smart-mouth answer; they want to hear how guilty I feel about leaving my family and that I'm worried about missing out. Yes, I have some of those feelings, but there is always another way to look at things.
A majority of working parents face feelings of guilt for leaving their children. While there are moments I'm sad, and there have been things I've missed along the way, the reality is I am doing something I love that actually has the potential to make a positive difference in the lives of others. I explain as much as possible to my children, in ways they understand, how I help people. There are some things that make a traveling job easier on my family, and there are choices I make to limit the impact of my absence. Here are a few of the things that keep my family and sanity intact:
1. I have a capable, supportive spouse who does an incredible job of providing care while I'm gone. It was bittersweet to accept the improvement in the relationship my kids have with their father because of my travels. It was simultaneously freeing and heartbreaking to know that I wasn't the only person who could meet their needs. By the nature of things, it seems kids generally want their mommy, and part of me enjoyed being wrapped up in that need. However, when I am gone, my husband has the opportunity to parent his way. I am not there to intervene or provide approval of his parenting methods. It has also forced the kids go to their dad for things that they always went to Mom for, and they realize that Daddy can meet their needs just as well as Mommy can. It stings a bit, but it is good for all of us.
2. I have an amazing village of friends, neighbors and caregivers. At every opportunity, we cultivate these relationships and lend equal hands to support our "village." We've been saved multiple times by others who have helped us out in a pinch. Whenever we can, we pay it back. We hang out so often with close friends with children of the same age that I'm sure our kids believe they are all related!
3. I have an understanding and supportive employer. I work from home when I'm not traveling. This alone, allows me the flexibility to be present with my family in ways that working onsite five days a week wouldn't allow. My employer recognizes that some of my best work happens after my kids go to bed at night. Having the flexibility to spend an extra hour during the day with my kids is invaluable. My work product excels, and my loyalty to this company runs deep because of these allowances.
4. I'm fiercely protective of my current work schedule, and there has to be an amazingly good reason to deviate from it. I am fortunate enough to be able to plan out my schedule in advance, and I'm mostly able to accommodate the "big happenings" in our family. I will exhaust all other options to be present and helpful at work if I can't travel via phone, video conference, or doing research. I know this may cause missed opportunities to further my career, and I'm perfectly OK with that right now. This will not always be my reality. Part of navigating this traveling, working-mom arena comes with knowing my boundaries and making my requirements clear to my employer from day one.
5. I make use of technology to stay connected. FaceTime has been huge for my family. It allows me to help with homework, participate in bedtime routines, and introduce my co-workers to my kids. I'm a big believer of including my kids as much as possible by "showing" them who I work with and where I work. This is integral to them understanding that I'm working and not on a fun vacation without them. I'll drop whatever I'm doing in the evenings to talk to them. I've left during dinner meetings with vice presidents to talk to my family. I manage expectations professionally, but I make it clear that taking time to connect with my family takes precedence when I'm out of town.
6. I realize the small things count. I like to leave notes in my kids' lunch boxes to let them know I'm thinking about them. It is especially fun to sneak them into their lunch boxes the morning I leave so they have a little surprise from me like I was there.
7. I make every attempt to disconnect from technology and be present when I'm home. There are some days I just want to spend hours on the internet, but I try to remind myself that my kids won't be little forever, and they actually want to hang out with me right now. I play with them, look them in the eye, and listen to them. There are some days the reminder to disconnect doesn't work, so on those days I forgive myself and try to be the parent I'd want to high-five the next day.
8. I bring my kids with me. I try to take my kids with me on work trips, especially in the summer when they are not in school. I've brought my kids on work trips where I have family or friends nearby, and I've taken my neighbor along with me to help nanny while I'm working. This allows me to maximize time with family and friends, have an adventure together, and have the kids see where I work.
9. My husband and I carve out time for each other when I'm gone. We know it's important for us to connect and communicate while I'm away. We are coaching the same team, and we need to meet and go over our playbook. We have found ourselves on a different page a few times, but we consistently work hard to maintain a support system for each other and our children.
This life is not for everyone, and it's not easy. I love my job and my family, and I'm constantly learning new ways to balance them all. Some days are easier than others, and that is just life, regardless off work, travel or parenting. It's important for me to be kind to myself and have fun along the way.
This article was originally published on