Rules for Navigating Your Child-Centered Social Life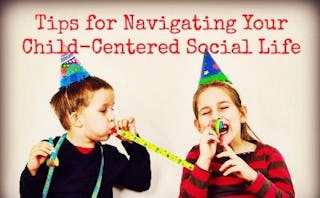 My daughter's social circle has been growing year by year. In December alone we attended five birthday parties and yes, I once took cake right out of some kid's mouth because my own daughter didn't save me any pizza.
The side effect of acting as your kid's entourage is mingling with other parents, and sometimes all you have in common is parenthood. I've created some helpful guidelines for navigating these social engagements.
1. Until we've gone out for drinks together, it's perfectly acceptable that we refer to each other using the formula [Kid's Name] + [Mom or Dad], know what I mean, Isabella's Mom?
2. If I bring a gift to a party in a playspace that smells like a locker room where I am required to remove my shoes and am fed greasy pizza, I anticipate a thank-you note.
3. If I invite you to a party in a playspace that smells like a locker room and require you to eat greasy pizza that I have to order and pay for in advance, I expect a timely RSVP.
4. When re-gifting shopping for the present I'll bring to your kid's birthday party, I always think, "Would I want this in my house?" Please exercise the same judgement or I will fill your gas tank with Moon Sand.
5. I will always treat, "Should I bring wine?" as a rhetorical question.
6. I am willing and happy to help you out in a childcare pinch, but know that you've just opened a tab.
7. If your child is super sensitive, please don't expect other parents to force apologies at every meltdown, then everyone will get a complex and no one can afford all that therapy.
8. If we've exchanged niceties at drop-off for 3+ years, I expect you to hold the door open for me. I may not always brush my hair but I promise I'm not a vagrant trespassing for the free applesauce.
9. When organizing get-togethers or outings, remember that dads are parents too and not penis-wielding creepers who tag along with the moms.
10. Please clearly label your nannies. I feel better when it's a 19-year-old au pair making me feel fat and matronly and not a peer.
This article was originally published on