11-Year-Old Girl Meets Her NBA Superstar Idol And The Reaction Is Priceless
by Julie Scagell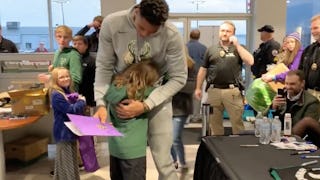 Image via
She'd been working on the artwork she showed him for almost two years
Not many of us have ever gotten to meet that one person — a film or sports star, author, or role model that we've looked up to our entire lives. So when this sweet 11-year-old finally got a chance to meet hers, she took the opportunity to give him all the things she'd made for him over the years.
During an autograph signing event with fans, Milwaukee Bucks forward Giannis Antetokounmpo got to meet Lily. After signing her jersey she brought with her, Lily presented Antetokounmpo with two year's worth of her artwork inspired by the NBA star. Please watch this video and try not to cry. I dare you.
When Antetokounmpo saw what she'd done, he got up from behind the signing table and went over to give Lily a big hug. "Thank you so much, this is amazing. It's amazing," he said while Lily cried. "You did all this? Thank you, thank you."
Lily told TODAY that her dad told her of the autograph signing the night before and she knew they just had to go. She and her dad waited in line for almost six hours to get a chance to meet Antetokounmpo. When she finally got her chance, she said: "OK, I've been working on this a very long time and now I can finally give it to you."
Her dad made sure to tweet his gratitude for taking the time to let Lily know how much he appreciated all her hard work.
Others were quick to point out the loveliness of their exchange:
https://twitter.com/jetpack/status/1111850980365066245
It's always such a joy to watch athletes give back to their fans — especially the young ones. Last year, 9-year-old Riley Morrison wrote a letter to Golden State Warriors star Steph Curry because she wanted to buy a pair of his Curry 5 sneakers but Under Armour didn't sell them in girls sizes.
Curry not only corrected the issue by spending two days with Under Armour, but he also unveiled that Morrison herself helped design them.
"I was immediately impressed when I saw Riley's letter; that a 9-year-old girl had the courage to use her voice to call attention to an issue and keep us accountable," Curry said. "She was focused on the opportunity for ALL girls, not just herself."
As for Lily, she said she was "astonished" that Antetokounmpo liked her artwork so much and started crying because she was so excited to finally meet him. She said she's been a fan of the Greek star since he was drafted and she likes him because "he keeps on giving and giving to fans." And that's why she wanted to give back to him.
Can we please pause to appreciate the awesomeness of this? He could have just thanked her and been on his way but to take the time to look through the folder and give her a big hug is something she'll remember forever. It's nice to see some role models living up to their name.