NBC Launches Formal Investigation Into AGT After Gabrielle Union's Firing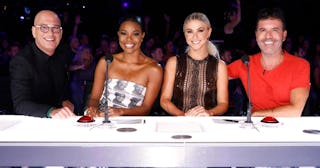 NBC
The investigation comes after Union was fired from the show after raising concerns about a "toxic" work environment
NBC has launched a formal investigation into America's Got Talent after Gabrielle Union was reportedly fired from the show as a judge after speaking out about its alleged toxic work environment. Members of Union's legal team were scheduled to meet with representatives from NBC as they investigate allegations of a toxic and racially insensitive work environment.
On Nov. 22, it was announced Union (along with fellow judge Julianne Hough) would not be returning for the 2020 season. The statement given by the network was very typical Hollywood PR: Union is reportedly leaving because she's so busy "with other projects." And she is, because shes Gabrielle Union, but she's been such a popular judge — both with contestants on the show and with fans online — that something seemed…off it.
Variety initially reported that Union's contract was not renewed after she reported a racist joke (courtesy of Jay Leno) to producers and was told that her hairstyles were "too black" for viewers. Vulture also reported about tension between Union and fellow judge and executive producer Simon Cowell, saying she had complained about him smoking on set — which is prohibited in California.
Union confirmed the meeting with NBC via Twitter yesterday:
Actor's union SAG-AFTRA has also launched an investigation into Union's departure from the show, and the Time's Up organization also thanked her for speaking up. In the meantime, fans and friends of Union's have come in droves to offer their support of the star.
Union showed her gratitude to fans who spoke up for her after the news initially broke.
Union's husband, Dwayne Wade, also shared his support and basically called out NBC for giving a non-reason for firing his wife.
Clearly, NBC was feeling the heat. And with good reason — they have a shady history as of late when it comes to how the entire network operates. With the horrifying details surrounding the Matt Lauer scandal and the way they stifled journalist Ronan Farrow from speaking about Harvey Weinstein before the The New York Times published the story that ended his career, here's hoping the network begins righting some wrongs — starting with Gabrielle Union and the allegations of harassment and rampant racism.
In a statement to journalist Yashar Ali, NBC says they'll continue to work with Union. "The initial conversation was candid and productive. While there will be a further investigation to get a deeper understanding of the facts, we are working with Gabrielle to come to a positive resolution."