NBC Pulls Slip 'N' Slide Show After *Checks Notes* 'Explosive Diarrhea Outbreak'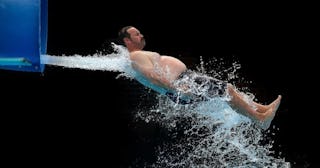 Kristina Long/Getty
NBC cancels would-be Slip 'N' Slide show over poo outbreak
What a shit show. Hot on the heels of the CDC reminding folks that pee pee and poo poo go in the potty, not in pools, NBC has a shitty problem of its own. The new would-be series, Ultimate Slip 'N' Slide, has been canceled (or infinitely sidelined, still unclear atm?) due to an "explosive diarrhea outbreak," Entertainment Weekly reports.
The show, an $18 million reboot of the 1960s game show Wham-O, planned to debut after the Summer Olympics. Production halted last month after a case of giardia (which causes diarrhea) was reported onset. During the outbreak, "up to 40 crew members fell violently ill."
The outbreak of "awful explosive diarrhea" led to people "collapsing" on set and "being forced to run into port-o-potties."
Look, we totally understand the feeling of being so excited you could poo yourself. But you DON'T ACTUALLY DO IT, Y'ALL.
Here's a bit of friendly advice: take the time to have an anxiety poo at the hotel. Go thrice, if necessary. But then shower afterward, because diving into a body of water after poopy-times is like shaving your pits in the shower and running a bar of soap over the area without rinsing. Lots of bits and pieces and totes cross-contamination is what we're saying.
Though, to be fair, it doesn't seem like the crew members on this cursed set had that option. Seemed like a real do or die situation, sadly.
Pity the poor production crew who had to stand in a room temperature super toilet for hours on end as contestants excitedly shat themselves during gameplay.
Tragically, the show was one episode away from completion, but it seems NBC execs would prefer to walk away from the wreckage than resurrect that cursed Slip 'N' Slide.
Twitter, of course, had a field day with the news.
"@taylorswift13 any chance you're available to sing the national anthem at our 9th Annual Red White and Blue Adult Slip 'n' Slide Shit Show tomorrow?" One tweet read. "Sorry such short notice."
"'NBC Pulls Ultimate Slip 'N Slide Premiere After Explosive Diarrhea Outbreak'," another tweet read. "The show was named more accurately than anyone suspected."
"I understand that one of the Reality TV stations will be picking this up and changing the concept slightly," another user posted. "They're changing the name of the show to SHIT YOUR WAY TO FAME. You can guess the rest."
"Nothing ruins a reality show worse than a floater in the punchbowl," another user wryly noted.
This may be the summer we all stick to dry land and stay at least 100 yards away from a public pool…we shit you not.