NBC's New Streaming Service Will Have Reboots Of 'Punky Brewster' And 'Saved By The Bell'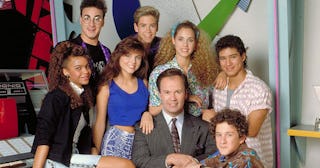 NBC
These two reboots have people more than a little excited about Peacock, NBC's new streaming service
Everyone loves a classic, and it seems like NBC will be harnessing the power of the classics (at least, where Millennials are concerned) with their new streaming service Peacock, which arrives in 2020. They're bringing back some reboots like Punky Brewster and Saved By The Bell. Now, the younger generation (and maybe their parents) can enjoy these new-old shows, too.
What a time to be alive.
The reboots are, of course, kind of a big deal. And we already know Slater, played by Mario Lopez, and Jessie, played by Elizabeth Berkley, will be back in Bayside. Chances are, there will be others joining (at least for cameos). Right now, we have no idea how the show is going to go, but a plot description on The Hollywood Reported suggests Zack Morris could be… the mayor? Hey, it kind of makes sense that he would end up a sleazy politician, no?
As for Punky Brewster, the actress who played the young girl will also be in the reboot, too. Soliel Moon Frye will be Punky again, now as a single mother of three. Let's hope she brings back Punky's amazing style because… wasn't she everyone's style icon as a kid?
These two reboots have people seriously pumped. And we kind of understand the hype. It's way nostalgic, but hopefully, the shows will be more than that so that the younger generation gets into them, too, and they stick around for a while.
And it'll be interesting how the shows fit into our modern world. I mean, the 90's were great and all. But those phones.
Aside from reboots, there's a lot more coming to Peacock, like old episodes of Parks and Rec, Frasier, Cheers, The Office, and more. But it's not all nostalgia. There will be some new shows on the streaming service, too, like Dr. Death, which is based off a true-crime podcast, and an original Jimmy Fallon talk show.
It looks like the network has lots of good stuff in store, both old and new. Either way, we'll be watching.
This article was originally published on