20 Things You And Your Kids Can Do Right Now To Spread Love And Tolerance
by Wendy Wisner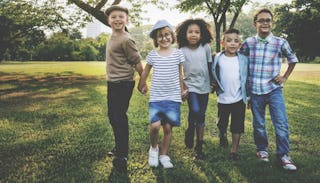 Rawpixel.com / iStock
If you are the type of person who cares about kindness, equality, social justice, and making sure your children have a shot at a good life on planet earth, these past few years have probably felt like a nightmare you wish you could wake up from.
It's hard not to feel like each day is one horrid shock after another, and to mourn the country we once had, or would like to have in the future. Feeling beaten down and hopeless is a natural reaction to this bullshit, but sitting in that place for too long can become crippling and make us feel even worse.
You know what the cure for helpless despair is? Action. We can transform that vulnerability and fear into full on rage — the kind that drives us to do good, to find ways to connect with our shattered and heartbroken communities, and get shit done. We can't afford to wait one more day for this monstrosity of an administration to go away.
We are mothers. We are fathers. We are humans who promote acceptance, love, and good-will above all else. And we need to act now, for our kids, and for the next generation of kids to come.
So we've compiled some ideas of real things you can do right now to make the world a more compassionate and accepting place. There are ways to donate, to volunteer, and simple acts of kindness you can practice with your kids in tow.
10 Family-Centered Organizations to Volunteer With or Donate To
1. The American Civil Liberties Union vows to protect our constitutional right and liberties, including racial equality and reproductive freedoms. Click here to donate.
2. The Anti-Defamation League's purpose is to "fight anti-Semitism worldwide," as well as "combat extremism and terrorism." They also aim to address bullying of all kinds, including cyberbullying. Click here to donate, and here to join your regional chapter.
3. Showing Up for Racial Justice's goal is to dismantle white supremacy and work for social justice. It's a national organization with chapters throughout the country. You can learn more about the organization here, or find a chapter in your area here.
4. Camp Aranu'tiq is a summer camp and safe spot for LBGTQ kids who feel that they might not fit in anywhere else. Click here to donate.
5. Council on American-Islamic Relations (CAIR) is our nation's largest civil liberties organization for Muslims. Click here to donate, and here to find your local chapter.
6. The National Association for the Advancement of Colored People (NAACP) aims to protect and promote the rights of people of color. Click here to donate, and here to find your local chapter.
7. Planned Parenthood provides birth control, STD testing, and reproductive health care and counseling to women and teens. Click here to donate, and here to volunteer.
8. Rape, Abuse & Incest National Network (RAINN) offers programs for victims of sexual abuse, and operates the National Sexual Assault Hotline (800-656-HOPE). Click here to donate, and here to volunteer for the hotline.
9. The Trevor Project was founded in 1998 to provide crisis intervention and suicide prevention counseling and services to LBGTQ youth ages 13-24. Click here to donate, and here to volunteer.
10. The Young Center for Immigrant Children's Rights' goal is to protect the rights of children who immigrate to the United States unaccompanied. Click here to donate, and here to volunteer as a Child Advocate.
10 Simple Acts of Kindness To Do With Your Kids
1. Have a garage sale for a local women's abuse shelter. Make sure to take your kids along when you donate the proceeds.
2. Take flowers and handwritten notes to mosques, synagogues, and other places of worship where marginalized people congregate. Show them that you are there, you are listening, and you care.
3. Donate toiletries, feminine hygiene products, gift cards, diapers, and food to domestic abuse shelters and homeless shelters.
4. Pay for another's family's meal—just foot the bill without even asking. Pay it forward to the person behind you at the drive-through.
5. Make sure your child's school and your local library have an inclusive selection of books that represent the beautiful diversity that makes up our country.
6. If there is a gay, lesbian, bisexual, or trans kid who is out at your child's school, encourage your child to be a good listener, and beacon of support. Reaching out, even when an LGBTQ child doesn't ask for help, can make a world of difference in terms of that child feeling safe.
7. Take your kids on the many protests, marches, and demonstrations that are bound to pop up over the next few years. Show them that there are other likeminded people who care, and that caring doesn't just mean talking the talk, but showing up and doing the work.
8. Have your kids write letters to their local and national elected officials. Sometimes words straight out of the mouths of babes means more than anything else.
9. Give out hugs to anyone who needs them. Smile. Hold open doors. Each small gesture counts and matters.
10. Offer kind words to anyone who is struggling. Don't even ask. If you see the pain on their face, ask them how they are. And listen. Listen, listen, listen. Validate. We all need to be heard right now.We can't reverse our disappointment, but we can use it to fuel us. Let's make sure those that will be most affected by a Trump presidency (minorities, POC, Muslim Americans, sexual assault survivors, etc.) know that we stand with them in solidarity and love.
Finally, as important as these actions are, make sure that you also spend some good time listening. If you are a person of privilege (i.e., your skin is white), now is the time to really listen to your black and brown sisters and brothers. If they call out racism, and you feel blindsided – or even accused – remember that now is the time to really examine your own biases and subconscious prejudices.
Now is the time to take several seats back and challenge yourself in ways that might feel uncomfortable and even terrifying. And now is the time to do your own research about race, history, and discrimination (i.e., don't rely on people of color to do all the explaining for you!).
Educate yourself, your family, your friends. Think outside the box. Dig your heels in. It's going to be a long fight. But fighting this beast with all we've got is the only way. Let's do this thing.
This article was originally published on