After Racists Vandalize A Home, Neighbors Scrub Off Hate Messages And Repaint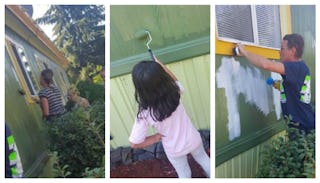 Images via Twitter.
Neighbors scrub hate messages and repaint home for family
Homes – they're where we make our meals, rest our heads, and raise our kids. It's crucial we feel safe in them, which is why a group of neighbors scrubbed racist messages from a Washington house before the family that calls it home could see them.
Marvin Phillips and his family were on vacation when some idiot spray painted racist slurs on their truck and all over the outside of their home. Thankfully his neighbors aren't the look-the-other-way type. Instead, they're the let's-send-a-message-that-this-bullshit-is-unacceptable-in-our-community kind of folks. By the time Phillips and his family got home, the hate speech had been removed and his house had a new layer of primer and fresh green paint. It was like the horrible incident never happened.
"I'm shocked. I really am. I'm grateful," he explained to KOMO News. Phillips said that the words the criminal left aren't something he hasn't heard before. An awful truth we Americans conveniently forget sometimes. But like any parent this dad was thinking about his kids more than anything. "I was more concerned about them," he explained. It's unacceptable that the hate crime occurred, but Phillips said it means the world to him that his community ensured his children wouldn't have to see it.
Mike Vanderhoof, who works for at the local fire station, explained why it was so important he and his neighbors sprung into action. "It's too cruddy of a world to have this kind of stuff happen in your own community and not do something about it." He added, "Main thing is we wanted to make sure the family didn't see this. Nobody needs that kind of hate speech."
We all want to feel safe in our homes and neighborhoods. Our kids deserve to grow up feeling like they belong. "This is a town. We're a family," shared family friend Misty Dell. "And to know that this could happen to somebody here is just devastating." Sadly it is all too common. In 2013 alone about 145 cases of hate crime were reported to law enforcement officials in the state of Washington, according to the Southern Poverty Law Center, a nonprofit that works to bring an end to domestic hate groups.
And while these vicious acts do happen the Tenino Police Department is investigating the crimes committed at the Phillips home. Hopefully, a neighbor's surveillance caught the criminal on camera. In the meantime, the neighborhood is doing what the best communities have always done – coming together to respect and support one another. Phillips explained what his reaction would've been if a different neighbor had been attacked, "It's not nothing I wouldn't have done myself."
Despite the racist efforts of one, hate has no place in this community.
This article was originally published on