Neil Patrick Harris And His Family Win Halloween Every Year
by Valerie Williams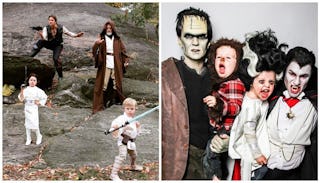 Image via Instagram/Twitter
Neil Patrick Harris' family Halloween costumes are pure magic
Neil Patrick Harris and husband David Burtka are "that" couple. They somehow manage to be both relationship goals and parenting goals while simultaneously making us all wish they were our dads. We're reminded of their status of "Most Fun Parents Ever" each year on Halloween, when the guys outfit themselves and their kids in the most amazing family costumes you can imagine.
Along with their adorable twins Gideon and Harper, Harris and Burtka love getting into the spirit of Halloween. Since their kids were born, they've made a point of showing off their coordinated and super creative family costumes to the delight (and envy) of families everywhere.
In 2011, Harris tweeted this amazingness and made us all wish we could go to Neverland. We can't even with those teensy glasses on Gideon.
And along came 2012 where Harris tweeted a photo of the family totally outdoing themselves recreating the perfect "Wizard of Oz" crew. Harper's golden locks peeking out of her Dorothy wig make this one to remember.
There was that time they wowed us in 2013 with their take on "Alice in Wonderland", complete with the daddies going as Tweedle Dee and Tweedle Dum. Bet that will be a fun one to look at when the kids are teenagers.
And proved for 2013 part two that even as classic, scary, horror characters, they're still too cute to be afraid of.
In 2014, they went as a mixture of heroes and villains proving that no matter what side they're on, they look amazing doing it.
And last year, they did "Star Wars" better than "Star Wars". Which is pretty much impossible. Unless you're Neil Patrick Harris, David Burtka and their criminally cute kids, that is.
We have to admit, we are stupidly excited to see what the photogenic and crafty family comes up with for 2016. While the rest of us cobble together canned costumes from Party City, it's fun to watch the Harris-Burtka's killing it in coordinated fashion every single year.
H/T Popsugar
[free_ebook]
This article was originally published on