Neil Patrick Harris And His Family Win Halloween — Again
by Christina Marfice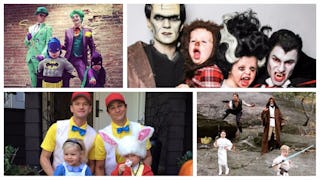 Image via NPH Instagram/Twitter
No one can compete with Neil Patrick Harris and David Burtka on Halloween. No one.
Is it wrong that every Halloween, there's something we look forward to more than the candy, the cute kids in costumes, the parties and the haunted houses? Every Halloween, Neil Patrick Harris and David Burtka post a photo to social media of their perfectly coordinated family costumes, and it honestly might be the best part of the holiday.
The most fun dad couple ever and their adorable twins, Gideon and Harper, have been doing this literally since the kids were infants. Each year, the costumes are so elaborate and perfect that they're enough to send any craft-challenged mom straight to Amazon to order one of those costumes in a bag, because no one can compete. But you can't be mad, because, seriously, look at them.
Here is Halloween, 2017.
This year, since the kids are getting a little older (seven years old, to be exact), their costumes are getting a little creepier. But their sideshow-inspired clown, strong man, bearded lady and ringleader are still just a bunch of envy-inducing cuteness.
What's more impressive is that this isn't the first time they've pulled off an impossibly impeccable, detailed, perfect family costume. They do it every. Freaking. Year. And it's just as on point every time.
They started the adorable family tradition back in 2011 when Gideon and Harper were just a few days past their first birthday, and they made us all want to take a trip to Never Never Land with their Peter Pan-inspired getups.
In 2012, they outdid themselves once again with their precious take on The Wizard of Oz. Every tiny detail is perfect, from the straw coming out of Burtka's pant legs and shirt sleeves, to Harper's wig, to Harris' shiny silver face paint. Can you even believe the dedication?
In 2013, they stuck with the Disney theme they had going on, and showed us their take on Alice In Wonderland, complete with Harris and Burtka dressed as Tweedle-Dee an Tweddle-Dum. Harper was a picture-perfect Alice, and Gideon's giant rabbit feet for his March Hare costume are cracking us up.
That was also the year they started gaining some internet fame for their costume game, so they gave us a bonus pic as a family of creepy Halloween monsters.
In 2014, their Gotham looks gave us confidence that Halloween would be safer than ever. They're the costumes we need, and the costumes we deserve.
And in 2015, they absolutely nailed their Star Wars looks, even posing in appropriately Hoth-like scenery.
2016 saw the family giving a nod to Harris' successful theater career with costumes of some of theater's most famous and successful stars, like Marilyn Monroe and Groucho Max. Of course, Harris pulled some strings to host the family photo shoot in a gorgeous theater, completing the look.
And that brings us to this year. Is it too soon to start counting down to next Halloween so we can see what this hilariously cute family has planned next? 365 days to go.