Neil Patrick Harris And His Family Win Halloween -- Again
by Valerie Williams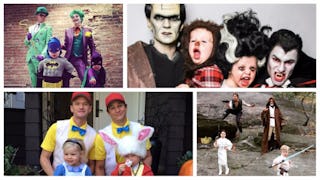 Image via Neil Patrick Harris/Instagram
Neil Patrick Harris and his family always bring their A game for Halloween — and 2018's no exception
Neil Patrick Harris and husband David Burtka have been absolutely nailing the Halloween game every year with their twins, Harper and Gideon. This year's no exception, and like stealing our kids' candy, checking out this family's insanely creative themed costumes has become a yearly Halloween tradition we don't want to miss.
This year, the world's most inventive and theatrical Halloween crew dressed up as the Hitchhiking Ghosts from Disney's The Haunted Mansion ride.
"Welcome, foolish mortals. We hope your Halloween is happily haunted, but heed this warning: beware of Hitchhiking Ghosts!" Burtka captioned the spooky-fun snap.
The group costume is only the latest in a long string of incredible, coordinated efforts from the couple and their ridiculously cute twins, who are now eight years old. They started the family costumes when Harper and Gideon were just toddlers, so we have a lot of fun Halloween memories to scroll through.
2011 was the first year they went for it with the twins only a year old. Their Peter Pan and Captain Hook looks (complete with a bitty Mr. Smee and spot-on Tinkerbell) stole all of our hearts.
The next year, they made us all squeal with the twins' very toddler-like turns as Dorothy and The Cowardly Lion (looks like Gideon's near tears). So much cute in just one family, it hardly even seems fair.
In 2013, they went for double costumes — an Alice in Wonderland theme for the kids' preschool Halloween carnival…
…and some classic horror film kitsch for the real deal on October 31st.
2014 brought a very on-point Batman look complete with Harris as The Riddler, Burtka's turn as The Joker, and the kids rock it as Batman and Batgirl.
An absolutely perfect Star Wars scene complete with pretend weapons marked the occasion in 2015, which we know must have thrilled the then five-year-old twins. Nothing says "fun costume accessory" like a lightsaber. Burtka and Harris have the cool dad thing on lock.
Old Hollywood was the focus for 2016's get-ups, and boy did they nail it. A perfect little Marilyn, an adorable James Dean, an uncannily good Groucho Marx, and a hauntingly accurate Charlie Chaplin. Can they adopt us, please? Formally asking right now.
Last year's side-show circus theme was tough to top (although this year's possibly accomplished it) with the twins as a strong man and bearded lady while their dads nailed both creepy clown (Burtka) and ringleader (Harris).
We hope with our entire hearts that as they get older, Harper and Gideon don't decide they're too cool to coordinate their Halloween costumes with their parents. This is the little shred of joy we need every year — and the dads probably do too.
This article was originally published on