Bodycam Vid Shows Police Rescuing Dozens Of Shelter Animals During Wildfire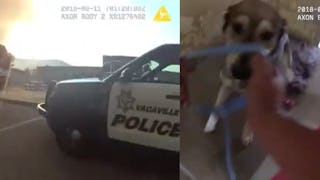 Image via Vacaville Police Department / Facebook
Hero police officers used their own vehicles to quickly evacuate an animal shelter in the path of the Nelson Fire
The Nelson Fire has burned more than 2,000 acres so far and forced evacuations in two California towns. And as the fire rapidly approached Vacaville, California Friday night, the SPCA of Solano County, containing more than 60 animals, was right in its path.
So police did what they had to do. With extremely limited time, they set out to evacuate the entire shelter — all 60 of the cats and dogs living there. Dramatic bodycam video captured the process, including when officers ran out of space in volunteers' vehicles and started ushering rescue pups into their own squad cars.
"We could see the active flames coming down," Officer Carly Stone, whose bodycam captured that footage, told ABC. "We had a short window to get out as many animals as we could before we knew we had to evacuate."
The video is chilling. Officers coax cats into crates. They leash dogs, and then pick them up and carry them when they balk at the smell of nearby smoke outside. All that can be heard is sirens, helicopter blades, the yelps of frightened dogs, and Stone's frantic breathing as she sprints in and out of the building, grabbing more and more animals.
"I ended up with three dogs in my car that night," Stone said. "I had nowhere to put the dogs, they seemed to be happy to be with me, so we just went to work and started evacuating houses for a few hours until I could get them back into the SPCA."
According to the shelter, though, all the animals were evacuated and none were injured. The building was saved by volunteer firefighters, and most of the animals have moved back in, though some remain with foster families. Cleanup could take days, and the shelter is desperately seeking cash donations to help mitigate some of the losses from the fire. The Solano SPCA provided an update on their page:
"We thank you all so much for your donations, love, support, and concerns. The Vacaville community has been so gracious to open their homes and hearts for us."
The shelter still needs plenty of help to make sure animals are taken care of in the wake of the evacuation. "We need cash donations for medications," one staff member told reporters. "Because the power was out for two days, we lost the vaccines we had in the refrigerators."
The Nelson Fire has since been contained. And at least one great thing has come of this terrifying story: Officer Stone is considering adopting one of the pups she helped save! She's a hero who definitely needs a furry sidekick, so here's hoping that actually happens.