An 11-Year-Old Is Selling Lemonade To Raise Money For Her Mom's Transplant Surgery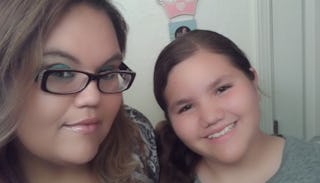 Image via Go Fund Me
Martinez is raising money selling lemonade for her moms surgical procedures
Lemonade stands are a staple summer adventure for kids, and a great exercise for them to create something and earn money as a result. But for one Las Cruces, New Mexico child, the money she's raising isn't for the latest toy or bag of candy, it's to help cover the cost for her mom to have life-saving surgery.
"Hi my name is Nemiah Martinez and I am 11yrs old," Martinez wrote on her on her GoFundMe page. "I have a lemonade stand that I started to help my mommy raise money so we can go to the Mayo Clinic in AZ."
According to the site, Martinez' mom, Paloma, is in need of a kidney and pancreas transplant and they don't currently have the money to get her there. "My mommy has always taken care of me and I want to take care of her," she wrote. "I see how much my mom is struggling and all I want to do is help her, if you see me around town, I hope that you stop by."
Eleven-year-old Martinez has been selling lemonade the past three weekends in an effort to raise the money needed for surgery. According to ABC News, Martinez has been selling lemonade for $1.50 a cup and has three varieties to choose from — strawberry, cucumber, and original. She does this every Saturday out of her garage and plans to do so until she raises enough money for her mom. So far, she's raised just over $200 selling lemonade, and now with her Go Fund Me page up and running, the amount's up to almost $3,500.
While this is such a sweet and kind act, the fact that any child feels the weight of responsibility to earn money so a family member can receive life-saving treatment is outrageous. It's tragic, and unfortunately, all too common in our country to not have access to affordable healthcare, something every human being should have the right to. This isn't a "feel good" story, it's utterly heartbreaking.
When her mom asked her what she planned to do with the money, Martinez said in the video, "This is for you so you can go to the Mayo Clinic." Martinez says she feels bad for her mom, who struggles to get out of bed and needs help around the house and wants her to have a chance to receive this life-saving treatment. A treatment that means she'll be around to raise her daughter and live a long and healthy life.
"She's very compassionate when it comes to all that. So it doesn't surprise me at all. She's just, I don't know. I'm the lucky one," Paloma said in the video.
"I try to do the best I can for her," Martinez said.
And that she is.
If you are able, please consider donating.