These Are The Best Christmas Movies To Stream On Netflix Right Now
by Cassandra Stone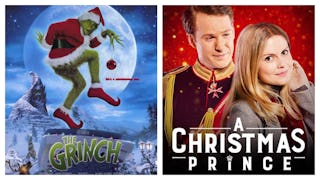 Image via IMDB
There's something for everyone when it comes to Netflix and their Christmas movie selection
Christmas movies are, arguably, one of the best parts about the holiday season. Curling up on the couch and indulging in everything from the classics to cheesy rom-coms is basically the perfect antidote to seasonal affective disorder. Which is why it's amazing that you can stream so many Christmas movies on Netflix right now.
Who says you need to wait until after Thanksgiving to truly begin your Christmas season? Haters and grinches, that's who. It's perfectly acceptable to still appreciate turkey and pumpkin pie whilst snuggling under a blanket on the couch and watching White Christmas two weeks before Thanksgiving.
And yes, White Christmas is just one part of the awesome holiday lineup on Netflix right now.
Also on the docket: Love Actually. Sure, it gets a bad rap (or should I say "wrap"? I'll see myself out) for glossing over dysfunctional romantic relationships, but it's still a huge holiday favorite. Come on, Colin Firth is in it! Though it remains a complete and utter mystery as to why everyone tries to make the Natalie/fat thing happen.
If you're into cheesy romances with attractive people, unrealistic premises, and all the escapism you can muster –Netflix originals A Christmas Prince and Christmas Inheritance give you all that Hallmark-y goodness without the commercials.
To heck with the prince, let's all just take a two-hour brain vacation to go here:
Netflix has a new Christmas romance out this year called The Holiday Calendar featuring Kat Graham, a hot guy, and William from This Is Us, which, come on, that alone sells it.
Other Christmas meet-cute inspired movies on Netflix (there are plenty this year, look out Hallmark): Christmas in the Smokies, Merry Kissmas, You Can't Fight Christmas, Angels in the Snow, and The Spirit of Christmas — where the protagonist falls in love with an insanely attractive, supposed-to-be-old-timey ghost with a very modern haircut (who knew fades were common in the bootlegger era?).
There are plenty of options for the whole family, too, like Dr. Seuss' How the Grinch Stole Christmas with Jim Carrey and, let's be honest, the real star of the show — Christine Baranski.
Also fun for the kids: Santa Paws, Santa Paws 2, and three different Mickey Mouse Christmas specials. For the big kid set, The Christmas Project is a good choice — it touches upon friendship, siblinghood, and bullying. And for '90s kids all grown up with their own kids now, Beethoven's Christmas Adventure is a fun way to bring a little nostalgia into your holiday binge-watching.
No matter what you're looking for or who's watching, Netflix absolutely delivers with the holiday movies. And remember — there's no such thing as "guilty pleasure." Feeling guilty about something that gives you pleasure, even if it's a 12/10 on the Cheese Scale, is bullshit and primarily aimed at women for no other reason than sexist shaming. No one's giving your husband shit for watching Bad Santa — which Netflix also has ready and available to stream, thank you very much.
Now go pop some popcorn and enjoy the happiness that comes with holiday movies of every type.