This Netflix Stunt That Honors Forgotten Women In History Is Truly *Chef's Kiss*
by Valerie Williams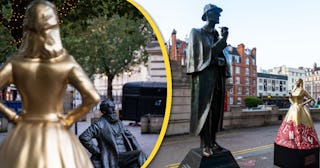 Netflix UK & Ireland/Twitter
In a move inspired by their new film "Enola Holmes," Netflix installed statues of forgotten sisters of famous men in cities all over the UK
Have you seen Netflix's Enola Holmes yet? The absolutely genius fictional take on the younger sister of famed detective Sherlock Holmes? If you haven't, you must — it's literally stupendous and I don't have enough big words to describe how happy it made me and my children. Enola (played by the brilliant Millie Bobby Brown) is an independent, intelligent, plucky, feminist 16-year-old girl on a big adventure and it will no doubt inspire other young women who watch her navigate her world with zero help from boys or men.
While the character of Enola is just that — a fictional character — there are actual sisters of famous, male historical figures who have been forgotten over the years and Netflix decided to partially right that wrong.
"Inspired by Sherlock's sister ENOLA HOLMES, we installed statues in cities around the UK celebrating the real-life sisters of famous figures whose prestigious achievements have been overshadowed in the history books by their more widely known brothers," they tweeted along with photos and brief biographies of the sisters.
The first photos represent Enola herself as she stands, hands on hips, staring up at older brother Sherlock. Her dress is partly red and covered in letters, a nod to one of the outfits she wore in the film and her character's penchant for using ciphers to solve mysteries.
Then we have Frances Dickens, sister of Charles and an actual student of Beethoven himself. According to Netflix, "Frances was so gifted, the Dickens family prioritized her education over Charles' as they could only afford school fees for one child." And yet, there have been no statues erected of her and hardly anyone knows her name.
The streaming giant placed a statue of poet Thomas Hardy's sister Mary next to his own. Mary was well-educated and worked as a teacher, later appointed Headmistress of Piddlehinton Village School at a time when women didn't do such things.
King Edward VII had a sister, Princess Helena Victoria. She was a founding member of the British Red Cross and President of the Royal British Nurses Association. Her statue sports a dress partially covered in tiny red crosses in honor of her work as a "champion of healthcare workers." Netflix says she "fought for better working conditions, rights, and pay, which led to nurse registration." Sounds like work worthy of a statue and maybe even a national holiday TBH.
You're undoubtedly familiar with the work of Wolfgang Amadeus Mozart, an incredibly influential composer of the Classical period. You probably had no idea his sister, Maria Anna Mozart, was a talented harpsichord and fortepiano player, touring Vienna and Paris. Maria was deemed a child prodigy for her musical talent and "would often receive top billing" when playing alongside her legendary brother. But as she grew older, "cultural pressures made it impossible for her to continue her career." Because of course they did.
Goodness knows our history books don't do much to document lesser-known women who were related to famous men, but they certainly existed and deserve to be recognized and honored, even if it's posthumously. Netflix has done something very cool by erecting these statues right next to the monuments honoring their famous brothers. Who knows to what heights these women might've soared if they were born in a different time when being more talented than your brother would mean something bigger than a mere footnote in history. Hopefully, seeing these statues around the UK will inspire people to learn more about these extraordinary women who didn't have a chance to become as well-known as they deserved to be in their own time.
Bravo, Netflix.