Netflix Says It May Halt Production In Georgia If Anti-Abortion Law Goes Into Effect
by Cassandra Stone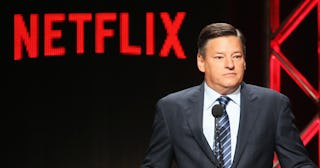 Frederick M. Brown/Getty
Netflix is officially the first studio to speak out against anti-abortion legislation in Georgia
After anti-abortion legislation made its way through Georgia lawmakers, many actors came forward to publicly denounce filming in the state in protestation. Now Netflix is the first major U.S. studio to speak out against the laws and reconsider using Georgia as a major hub for filming.
The state of Georgia is a major production hub for Netflix and other studios — in 2018 alone, Georgia hosted a record of 455 projects that produced an economic impact of $9.5 billion for the state. That Netflix is considering pulling its productions from Georgia if the "heartbeat bill" goes into effect.
The bill would ban abortions after a fetal heartbeat is detected, which can occur as early as six weeks into pregnancy. Many women aren't even aware they're pregnant that early — which makes this anti-abortion law anti-woman and inhumane. The ACLU says they plan on challenging the law, which is set to go into effect in 2020.
After the bill was signed by Georgia Governor Brian Kemp on May 7th, an uproar within the Hollywood industry came swiftly. A huge number of movies and TV shows film in the state because of sizable tax breaks, which is why this is an extremely big deal for the financial future of Georgia.
Though many industry professionals have publicly shared their anger with the heartbeat bill and called for boycotting Georgia as a filming location, Netflix is the only studio to respond directly.
"We have many women working on productions in Georgia, whose rights, along with millions of others, will be severely restricted by this law," Ted Sarandos, Netflix's chief content officer, says in an exclusive statement to Variety. "It's why we will work with the ACLU and others to fight it in court. Given the legislation has not yet been implemented, we'll continue to film there, while also supporting partners and artists who choose not to. Should it ever come into effect, we'd rethink our entire investment in Georgia."
Netflix currently films and produces shows like Ozark and Stranger Things in Georgia. One problem with boycotting an entire state is the livelihood of people who have nothing to do with the bill. Industry professionals who live in or have relocated to Georgia for work don't necessarily have the option to move to L.A. or New York in order to work.
"I hate that Hollywood has to come to this point of saying that if this rule doesn't get changed, then we're going to boycott your state," says Druscilla Smith, a producer, tells Variety.
That hasn't stopped bigwigs like Kristen Wiig and her writing partner, Oscar winner Annie Mumolo, from halting production on projects. Their new comedy, Barb and Star Go to Vista Del Mar, a Lionsgate movie (the same production company that funded the cult-classic Bridesmaids) was planning to film in Georgia. The film will now film elsewhere in direct response to the heartbeat bill and its effect on the women of Georgia.
Fellow actors Jason Bateman, Alec Baldwin, and Amy Schumer have also pledged to leave the state if the bill passes. Hollywood producers J.J Abrams, Peter Chernin, and Imagine Entertainment have said their salaries and any donations they receive will go to charities to help fight against anti-abortion legislation while they are currently in Georgia finishing productions.