Netflix Just Announced Their Entire Holiday Movie Lineup
by Madison Vanderberg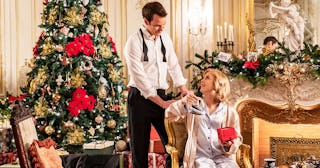 Netflix
A list of every holiday-themed title dropping on Netflix this winter
Once upon a time, if you wanted to see a cute tale of an unlucky-in-love career woman falling in love or meeting a royal or discovering the true meaning of Christmas — you had to turn to either Lifetime or The Hallmark Channel to get your fill. Now, Netflix is in on the holiday movie game and we are overjoyed. Netflix just dropped it's entire holiday movie lineup, which starts on November 1, 2019 this year.
Some of the big marquee films include A Christmas Prince: The Royal Baby, the third installment in the Christmas Prince series, which sees the royal twosome awaiting the birth of their child while searching for a theief in the castle. Vanessa Hudgens is back for another royal-themed flick called A Knight Before Christmas, where she plays a loveless school teacher who meets and falls in love with a medieval knight who is magically transported to modern day Ohio.
Your teenaged kids will probably be excited for Let It Snow based on the John Green novel and starring Kiernan Shipka about a rare snowstorm that lands in a small town on Christmas Eve. Plus there's the continuation of the classic Cinderella Story series, A Cinderella Story: A Christmas Wish starring Laura Marano and Gregg Sulkin.
There's also Holiday in the Wild, which stars Kristin Davis from Sex and the City who is recently dumped by her fiance on the eve of her wedding only to fall in love with Rob Lowe while on a solo safari trip through Africa. Merry Happy Whatever stars Dennis Quaid as strong-willed patriarch from Philadelphia just trying to manage his eccentric family and get through the holidays.
There's also a ton of new baking shows like Sugar Rush Christmas and the return of Nailed It! Holiday!
Here's every holiday-themed titled dropping on Netflix in the next few months:
November 1, 2019:
Holiday in the Wild
Christmas Break-In
Christmas Survival
Elliot the Littlest Reindeer
Holly Star
Santa Girl
The Christmas Candle
Christmas in the Heartland
November 4, 2019
A Holiday Engagement
Christmas Crush
Dear Santa
November 8, 2019
Let It Snow
The Great British Baking Show: Holidays: Season 2
November 15, 2019
Klaus
November 21, 2019
The Knight Before Christmas
November 22, 2019
Nailed It! Holiday!: Season 2
November 26, 2019
Super Monsters Save Christmas
True: Winter Wishes
November 28, 2019
The Holiday Rush
Merry Happy Whatever
November 29, 2019
Sugar Rush Christmas
December 1, 2019
A Cinderella Story: Christmas Wish
December 2, 2019
Team Kaylie: Part 2 (Holiday Episode)
December 5, 2019
A Christmas Prince: The Royal Baby
December 6, 2019
Magic For Humans: Season 2 (Holiday Episode)
Spirit Riding Free: The Spirit of Christmas
December 9, 2019
A Family Reunion Christmas
December 24, 2019
Lost In Space: Season 2
December 30, 2019
Alexa & Katie: Season 3: Holiday Episode
This article was originally published on