Rejoice! Netflix Is Adding Tons Of Great Kids' Movies This Month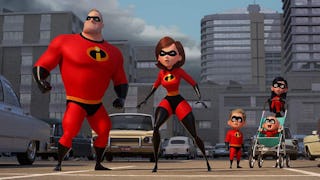 Image via Disney Pixar / IMDB
Start the new year off right by curling up to watch some family-friendly Netflix
Happy 2019, y'all. Now that the holiday season's officially over, the road ahead is several months of crappy weather with nothing to look forward to until, like, May. The kids are likely to be pesky and restless. It's too cold to send them outside, or to even really want to leave the house yourself. Thank God for Netflix, right?
The streaming giant seems to understand our collective January struggle, because the first month of 2019 is absolutely packed with family-friendly new additions that will keep kids entertained and parents sane until the days get a little longer and warmer. Here's what's already been added, and what's coming later this month. Pop some popcorn, get the kiddos settled in, turn on Netflix, and enjoy a couple hours of precious quiet.
Added Jan. 1
As of yesterday, the first official day of 2019, Netflix is offering a ton of new movies and shows that kids are gonna want to watch over and over.
Already available to stream are:
A Series of Unfortunate Events: Season 3
Happy Feet
All four Indiana Jones movies!
Mr. Beans' Holiday
The Addams Family
Available Jan. 9
Coming later in the month, you and your kids can get your Star Wars on with one of the latest installments in the series. Solo: A Star Wars Story is coming to Netflix in just one week.
Available Jan. 18
Later in the month, the site will roll out the fifth season of Trolls: The Beat Goes On! On the same day, it will also debut its highly anticipated original series Carmen Sandiego, an educational animated series about the woman who travels the world to foil V.I.L.E.'s evil plans. Yes, it's a revival of the rad series of '90s TV shows and computer games. No, we won't judge at all if you watch it totally by yourself with a giant bowl of popcorn.
Available Jan. 24
Coming Jan. 24, you and the kids can cozy up to watch Hotel Transylvania 3: Summer Vacation, which begins streaming that day.
Available Jan. 30
And finally, as the first month of 2019 draws to a close, celebrate making it that far with The Incredibles 2, which begins streaming on Netflix on Jan. 30. If you haven't seen it yet, start the countdown — it's another piece of Pixar gold that will delight kids and adults alike.
If there's anything that's going to get us through the doldrums of the rest of this winter, it's good movies. And thanks to Netflix, there's going to be plenty of options for the whole family. Bless up, 2019. So far, so good.