Netflix's Hilarious Show About Baking 'Fails' Is Your New Favorite Thing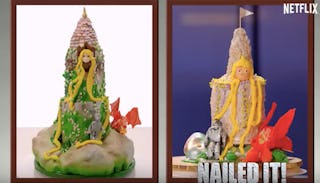 Image via YouTube/Nailed It
Netflix's 'Nailed It' is all of us attempting to bake with no skills
If you're obsessed with baking shows like The Great British Bakeoff or Holiday/Spring/Kids Baking Championship but have zero idea how to bake yourself, today's your lucky day. Netflix just dropped a new series called Nailed It featuring amateur bakers who have zero chill in the kitchen.
The series, now available on Netflix, showcases three contestants each episode trying to make cakes and failing miserably. With an official tagline of: "Netflix's Nailed It is a baking competition show for anyone who has tried to copy a Pinterest recipe and epically failed," you just know it's gonna be good.
The goal of the show, as with most baking competitions, is probably to improve the contestants' skills and confidence in the kitchen but the rest of us will be laughing our asses off and shaking our heads in solidarity muttering, "me too, gurl" while they produce masterpieces like these:
Because, oh my god. Just look at these unholy creations.
"She is so scary looking," host Nicole Byer exclaimed of this culinary disaster. "And I don't think anybody's coming to rescue her." Her eyes, though.
People are loving what they see so far:
Of course, it's nice to know some of us who lack basic baking skills like these folks (ahem) aren't alone. Because as excited as we are to watch these fails go down in real time, the bad baking trend has (thankfully) been around for a few years:
https://www.instagram.com/p/BgKc8FPFSP1/?tagged=bakingfail
Look, unless you're a semi-professional baker with a shitload of patience, odds are you've experienced an epic fail in the kitchen, usually as a result of attempting some far-fetched birthday cake for one of your kids or when you feel nostalgic during the holidays and have amnesia about how last year's cookies turned out. It happens. Luckily Netflix has us covered so we don't have to feel alone in our tragic incompetence.
I would be remiss if I didn't share my last attempt at baking for my kids. Did I mention my mother-in-law used to decorate cakes professionally? Needless to say, I am a hit:
Byer hosts the six 30-minute episodes along with professional chef Jacques Torres, and watching them laugh (or try really hard not to) is almost as funny as the creations themselves. But don't feel too sorry for the contestants, the winner of each episode gets a $10,000 prize.
According to Netflix, the show is "part reality contest, part hot mess," and we are here for it.