Netflix New Year's Eve Countdown Programming Is Parenting Magic
by Julie Scagell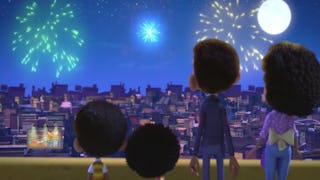 Image via Netflix
And they've even added more New Year's Eve options for tweens
New Year's Eve is just a couple days away, which means if you haven't thought of a plan for the kids yet (waves hands violently above head), it's time to get on it. Luckily, Netflix is here to save us once more from entertaining our kids when we really just want to entertain ourselves for one night of the year.
Of course, it's always fun to get the kids in on the holiday fun — as long as the promise of an early bedtime hangs in the confetti-laden air. It's especially fun when they are too young to read a clock because midnight can really be whatever time you make it.
When you're ready for them to settle down for the night (or entertain themselves from about 3 p.m. on), Netflix has 14 on-demand programs (five more than last year) that will countdown to the New Year similar to years past. Of course, their most popular kid's shows will be available, but in addition shows that cater to tweens like "Prince of Peoria," "Alexa & Katie" and "Fuller House" will also be available.
Other series included this year are "Pinky Malinky," "Motown Magic," "Larva Island," "Beat Bugs," "Skylanders Academy," "Super Monsters," "True and the Rainbow Kingdom," "Tales of Arcadia," "All Hail King Julien," "The Boss Baby: Back in Business" and "Spirit Riding Free."
Let's be honest, even if you aren't going out or hosting a raging fiesta this year, it's nice to have your kids tucked in bed early so you can fall asleep on the couch at 8:30, wake up drooling at 11:59 to toast the event with some warm Pinot Grigio, and head to bed without the hassle of putting the kids to sleep late and wound up.
To find all the programming available, type in "countdowns" on Netflix's search box. There, you will find all the videos (each lasting approximately five minutes) and all ending with a New Year's Eve countdown to ring in 2019 in Netflix-style.
You don't even have to wait until New Year's Eve to get the countdown — Netflix released all the shows on Wednesday, so anytime you need some peace and quiet or a quick ten-minute nap, just flip it on and BAM — it's New Year's. (So, basically every day.)
Here's to a 2019 filled with health, happiness, and our kids being entertained by someone other than ourselves for a few precious hours.