Get The Kids To Bed Early And Get Your Drink On: Netflix Offers Fake NYE Countdowns
by Ashley Austrew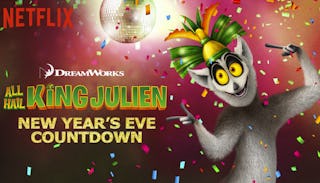 These fake New Year's Eve countdowns from Netflix will make sure the party doesn't stop… until you want it to.
Want a childless New Year's Eve but don't want to pay for a sitter? Well, Netflix has the answer to your prayers. The streaming service just launched a brand new set of kid-friendly New Year's Eve countdowns you can use to ring in 2016 well before the clock strikes midnight.
The countdowns are each about three minutes long and feature different beloved kids characters, like the Care Bears, Inspector Gadget, Mr. Peabody and Sherman, and King Julien from the Netflix series All Hail King Julien. You just have your kids pick which countdown they want to watch based on the character they like best, and then you can ring in the new year at 10, nine, or even eight p.m. Once the kids are shuffled off to bed, you're free to enjoy your champagne and adult shows in peace.
Netflix offered one kids' countdown last year, but they've expanded their offerings based on the results of a survey they conducted earlier this month that showed nearly half of U.S. parents would prefer to celebrate with their kids and have them in bed by nine, at the latest. In fact, 41 percent of parents say they already use tricks like fake countdowns to get their babies in bed at a reasonable hour. Netflix is just doing us a solid and helping us be better liars than we already are. Thanks, Netflix!
As much as kids might want to stay up late and party with their parents, the reality is most of them will not last until midnight. Hell, most adults have trouble staying awake until midnight, and yes, I'm including myself in that group — I'm lucky if I can keep my eyes open past 10. The Netflix countdowns are an easy way to let our kids join in the New Year's festivities while still preserving some child-free time before we all pass out. Plus, they're fun and engaging. I mean, look how cute these are:
I may be a mean mom, but my kids will be in bed by eight on New Year's Eve. They're both under five, and I see no point in letting them stay up all night and then struggling to get them to sleep because they're overtired. Luckily, now I can just bust out the cheap hats and Dollar Store party horns early in the evening and use Netflix to move the celebration up a few hours.
Someday the kids will be able to stay up until midnight without turning into pumpkins. Until then, it's a good thing we have technology to help make the night go a little bit smoother.