The Trailer For Netflix's 'Red Notice' Is Here And We Need To See This Movie ASAP
by Christina Marfice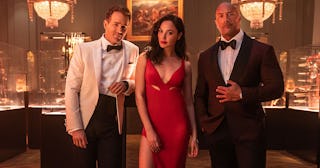 Frank Masi/NETFLIX
Ryan Reynolds and The Rock team up to stop art thief Gal Gadot in a hilarious trailer for Netflix's Red Notice
If there's an MVP of the pandemic age, it's Netflix. From those early quarantine days watching Tiger King to our new favorite reality series, Love Is Blind, and the incredible popularity of Squid Game, the streaming giant just can't seem to stop cranking out content we want to binge watch immediately. And that also goes for a new movie Netflix has coming up: The action heist movie Red Notice.
Red Notice stars Gal Gadot, Ryan Reynolds, and Dwayne "The Rock" Johnson, and to be honest, we could probably stop right there because that cast alone is enough to convince me I need to see this movie as soon as possible. But to sweeten the deal even more, Netflix just released a full-length trailer, and it certainly does not disappoint.
In the trailer, we see FBI agent The Rock pulling off a sting operation to arrest Ryan Reynolds, the second-most wanted art thief in the world. There's a twist, though — rather than take Reynolds right to jail, The Rock wants his help in stopping a heist by the first-most wanted art thief in the world: Gal Gadot.
Of course, that's not where the twists and turns stop. The trailer reveals that Gadot's character frames The Rock for a crime, meaning he has to team up with Reynolds once again to clear his name — though, of course, there are questions about whether he can trust his newfound partner or if he's in on the whole thing. There's probably another heist involved with that, but we'll just have to wait for the movie to come out to see for sure. According to the trailer, we can expect fight scenes, daring escapes, a run-in with a bull, and of course, plenty of hilarious banter between all the movie's funny stars.
And naturally, the stars are hyping it up on their own socials. The Rock, aka The Nicest Guy In Hollywood, specifically hyped his costars. "Not only is this the biggest investment NETFLIX has ever made in a film, it also boasts two of the biggest and most talented (and attractive;) movie stars on the planet in @gal_gadot & @vancityreynolds," he wrote.
Reynolds made a very on-brand joke that they created his entire tux out of "one of The Rock's socks."
And Gal's just pumped to be the "Number one criminal mastermind in the world." Hashtag girl boss.
Red Notice also stars Ritu Arya and Chris Diamantopoulos. And here's what sets it apart from other Netflix content: You can actually see this movie in theaters! This is the first Netflix-produced film to get a theatrical release before it hits the streaming platform. The Rock, Ryan Reynolds, and Gal Gadot on the big screen? Say no more — we'll be there, popcorn in hand.
Red Notice hits select theaters on Nov. 5, and will be available to stream on Netflix a week later, on Nov. 12.