11 Netflix Shows That Make A Pandemic Winter Suck A Little Less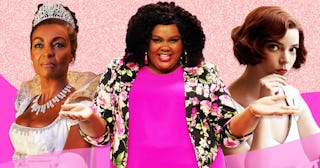 Julia Meslener for Scary Mommy and Netflix
We were all anxiously counting down to the new year and looking forward to being done with this pandemic. Nevertheless, here we are in 2021 with the second wave of COVID and many of us are still in full blown lockdowns. So I think it's safe to say 2021 is definitely not the year for any "new year, new me" resolutions. But how about new year, new Netflix shows to binge?
Netflix has been a saving grace for many of us for the last 10 months. It offers a level of escapism that we all need. There is no better time to binge new and old Netflix shows if you haven't already started. Because we could all use a little escapism to help this pandemic winter suck a little less, here is a roundup of our favorite Netflix shows to binge.
This period drama will have you clutching your proverbial pearls. If you haven't binged this already, what are you waiting for? Think "Gossip Girl" version of "Downton Abbey" but with really hot sex scenes. Some have complained the first couple of episodes are a bit boring. But once you get to episode 3, you will want to come back for more. Don't forget, this is based on a romance novel series. So, if you do nothing else, at least fast forward to the sex scenes.
Sometimes you need a good action series with suspense and death defying stunts. And you could probably convince your husband to join you for this binge session. With just 5 episodes, this is a fun show that will fly by and leave you wanting for more. Not to mention lead actor Omar Sy is quite the charmer.
Since we can't hang out with girlfriends in real life, this is the show we all need. This throwback comedy from the mid-2000s starring Tracey Ellis Ross just hit Netflix and it's a must see. It follows four best friends Joan, Maya, Lynn and Toni as they navigate different stages of adulting. This show covers it all… pursuing a career, motherhood, sex, dating, marriage, finances, friendship and so much more.
If you grew up reading "The Baby-Sitters Club" book series, this is a show you can enjoy with your kiddos. It's a fun, girl power show that still manages to explore some important issues like gender identity, coping with health issues, bullying, puberty and protesting.
How did a show about a chess prodigy become all the rage? The show follows orphaned chess prodigy Beth Harman as she negotiates addiction and her rise in the male dominated chess world. It almost immediately became the most viewed mini-series on Netflix. It could be the performances, storytelling, realistic portrayal of chess or the beautiful mid century aesthetic. But it is definitely worth the watch to decide for yourself.
Tragic comedy seems like a bit of oxymoron but it is the perfect genre to describe what happens in "Dead To Me." This show is filled with twists and turns and an unlikely friendship between the lead characters played by Christina Applegate and Linda Cardellini. And we can't neglect to mention James Marsden. You definitely want to binge the first two seasons before the third and final season is released this year.
What could be better than watching a group of people attempt impossible Pinterest level baking challenges and fail? This show will help you feel better about all your baking Pinterest fails you have attempted during quarantine. And host Nicole Byer gives you much needed belly laughs with her side eye and hilarious commentary.
Most sequels and reboots usually suck. But "Cobra Kai" is the perfect reboot of "The Karate Kid." Daniel's former karate opponent and bully Johnny Lawrence decides to re-open the Cobra Kai dojo bringing up old rivalries and creating new ones. This show reaches the perfect balance of nostalgia and modern day relevance making even your teenagers want to binge this show with you.
If you are at the stage of parenting that calls for the "sex talk" with your teen, this show is a must see. The show follows socially awkward high schooler Otis Milburn who lives with his mother, a sex therapist. Along with of his "bad girl" classmate Maeve, Otis starts an underground sex therapy clinic to deal fellow students' sexual problems. And let's just say things don't always go as expected. Watching this could either send your anxiety through the roof or give you a well deserved belly laugh about the absurdity of this stage of parenting.
If swear words are your thing, this is the show for you. This is an educational series on the origins of swear words hosted by Nic Cage. Historians and comedians explain the origins of Fuck, Shit, Bitch, Dick, Pussy, and Damn in six quick episodes. You can binge this in just a matter of hours. And why not get a little more educated about the glorious swear words you love so much.
If you love a fun reality show, this docusoap needs to be added to your list. Is it over the top, unnecessary drama? Absolutely! But that's exactly the escape you need from this never ending pandemic. Think "House of Ho" on a whole other level, with a cast of super-wealthy Asian and Asian-American families in and around Los Angeles.
These are just a few suggestions of entertaining shows on Netflix. It appears we will all be on lockdown for at least a little while longer. And there seems to be never ending possibilities to binge on Netflix. So, what better way to practice a little escapism than to binge watch your favorite Netflix shows from the safety of your couch?
This article was originally published on