Netflix Just Dropped A Teaser Trailer For 'You' Season 4 - Yes, FOUR
by Christina Marfice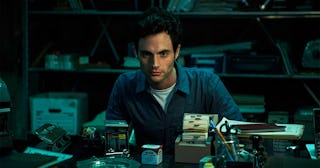 Netflix
As if we needed another reason to celebrate Spooky Season — Netflix has already confirmed that its super-scary serial killer series You will be back for a fourth season
You fans, this is a truly wonderful week. Spooky Season is in full swing, and while we were all getting ready for the much-anticipated premiere of You Season 3 tomorrow, Netflix quietly dropped a big surprise: The show has already been renewed for a fourth season. OK, maybe it's not a surprise, because why would any studio cancel a show this good? But it's further proof that You is the Spooky Season gift that keeps on giving, because we'll likely have another new season next year.
To make this already-incredible news even better, Netflix dropped a teaser for Season 4. That's right, before we've even seen Season 3, we're already getting hints about the next installment in Joe's life. Buckle up, because I promise you're not ready for this.
The teaser mostly just includes old footage from past seasons. But what's interesting is that Beck, Joe's love interest from Season 1, is featured much more heavily than Love, his (presumed) current love, and the mother of his child. Now, we obviously haven't seen Season 3 yet, but as of now, the end of Season 2, Joe and Love are together, moving into a house in suburban California, ready to welcome and raise their baby boy. So why is Joe so focused on Beck in this teaser?
In his voiceover, he talks about all the things he did "for you." Scenes of him lovingly getting to know both women — chatting, strolling, holding hands — flash across the screen, then quickly become interspersed with scenes of the more… unsavory things Joe has done — murdering Peach and Benji, trapping people in his glass book cage. Over all the scenes, Joe's voice says over and over, "For you."
It's creepy. It's intriguing. It's everything we want from our favorite Netflix series.
Of course, since this was literally announced today, we don't know anything about the timeline for it to be produced and released. But if Netflix follows its pattern from the last several seasons of the show, we should expect Season 4 around this time next year — just in time for Spooky Season 2022. In the meantime, we'll be bingeing Season 3, getting up in between each episode to double check that all the doors and windows are closed and locked. Just in case, you know?