10 Things To Do In the Netherlands With Kids
by Olga Mecking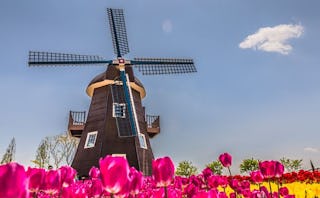 Heading to the Netherlands with kids? Most people who visit the Netherlands go to Amsterdam but what they don't know is that the whole country is pretty much a children's paradise. There is plenty to see and experience for the whole family while you're here. And luckily, the Netherlands are a small country and you can easily get everywhere by car or train. With so many great places to visit, I really struggled not to make this list any longer so I concentrated mostly on open air opportunities.
1. Diergaarde Blijdorp is our very favorite zoo. When we need to entertain the kids, no matter the weather, we go to Blijdorp and entertain the kids for the whole day. Blijdorp is quite big and we can go for walks and see the animals. Last year they added a fabulous new tent for the Amazonian butterflies, fish and tortoises. It's big enough so that the animals have enough space but small enough for the children to see everything.
2. Avi Fauna is a zoo devoted almost solely to bird in all sizes, colors and origins. It's fabulous. We specifically enjoy the place where we go and take a little plastic cup with syrup and have parrots come to sit on your arm, or, as in my husband's case, on your head. You can also take an hour long boat trip on the lake and see more of the stunning Dutch landscape.
3. Just as Avi Fauna is for birds, Apenheul is for monkeys. Don't be surprised when you are told to carefully close your handbags and secure everything in the children's stroller: there are monkeys at large everywhere! My little girl got somewhat scared, but my big girl had the time of her life. These monkeys are really cheeky and even climbed into the stroller! There are bigger monkeys and apes to look at, too, but they're in cages.
4. Hailed as the biggest playground in Europe, Linnaushof was built in the place of an old botanical garden. It's huge, with different places for children with all kinds of interests, and of all ages. There's a dwarf's cottage village, a water park for water-loving kids as well as slides, trampolines, swings and all kinds of wonderful equipment. If it's raining, there's an indoor playground just in case. You can easily spend a whole day here.
5. Efteling is a playground for the kids with other entertainment possibilities, too. One great feature is the Sprookjesboom, or the Fairy Tale Tree, where children can listen to fairy tales and watch them come alive. So much better than Disney World!
6. Drievliet is playground for children of all ages, with carousels, swings, slides and other equipment for a whole day of fun.
7. Archeon is an open air museum showing old buildings and way of life from the prehistorical times through the late Middle Ages (located in Alphen, the same place Avi Fauna.) Not only can you see how people lived in the Olden Days, there are also actors re-enacting gladiator fights. You can buy old-style bread, shoes or participate in building a house. There's also a playground for little ones to burn off steam.
8. If you want the feel of a cute quaint old Dutch town, go to Zuiderzee Museum. It's like you've been transported a few centuries back. It had everything Dutch in one place: windmills, canals, little brick houses. So cute. You can even see how a windmill works, and the children can "milk" a cow- not a real one but only to get the feel of it. You can also get dressed in traditional Dutch clothes and pose for pictures!
9. Madurodam is everything you need to see in the Netherlands in miniature. You will get to see the most important places in the Netherlands without actually going anywhere! Among the cities, you will find buildings and streets from Amsterdam, Delft, or Utrecht. You will see the airport, the Delta works (a huge dam build after the flood of 1957), and the train stations. And all the time there is action: cars, buses and trains are driving around. Sometimes, there's "fire" and then the tiny fire engine comes to end it. Madurodam is also very interactive, you can press buttons and see action come to live.
10. While the tulip garden Keukenhof is only open for a few weeks a year, if you time your trip right, it's well worth a visit. In addition to stunning tulips, hyacinths and orchids are present as well. It's basically a symphony of colors and smells. For the children, there is a playground, and they can also see a windmill from inside which is also cool for the older kids.
I am amazed by the various natural treasures the Netherlands have to offer: Dunes, the sea, and the parks and I love the fact that wherever we go, there will be a playground or a petting zoo nearby. The Netherlands are a truly great country with plenty to offer for traveling families.
Have a wonderful visit!
This article was originally published on