New AAP Flu Vaccine Guidelines: Get Your Kid Vaccinated By October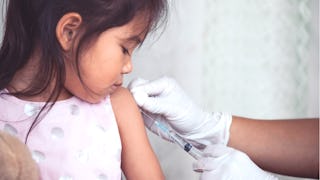 Image via Shutterstock
AAP 2017-2018 update: it's never too early to get the flu vaccine
Summer is over, fall is upon us, and that means flu season is also right around the corner. Just in time, the American Academy of Pediatrics (AAP) released new guidelines that are a must-read for parents.
The biggest take away: it's not too early to get your kid vaccinated.
"Since the start of the influenza season is unpredictable, immunization of all children six months and older should begin as soon as the seasonal influenza vaccine is available," the recommendation states. The AAP predicts the 2017-2018 flu season will begin in the Fall or Winter. There will likely be more than one disease "peak" and the whole season will extend into late Spring.
This is all standard flu season stuff, but the big update is that you should get the vaccine ASAP. In order to fully protect your child from getting the flu you should have "complete immunization" by the end of October, as stated in the AAP's new guidelines. And just as a reminder, some kids do require two shots to complete their flu immunization. It's best to plan ahead.
Another noteworthy update – nasal flu sprays (LAIV) are not recommended this year. Only injectable shots are suggested.
Your pediatrician or closest clinic should have the 2017-2018 injectable flu vaccine in stock by now, so if possible, go get it. "There is no evidence that administering the influenza vaccine early in the season increases the risk of infection for children." Ultimately, it's never too early to get the flu vaccine especially in light of what kind of flu season it's supposed to be. Hint- BRUTAL.
"There is every reason to expect that we could have a severe flu season this year," says Dr. Robert Atmar, professor and interim chief of the section of infectious diseases at Baylor. "It's always hard to predict what is going to happen, but people should be prepared." As he explained on the Baylor College of Medicine website, based on last year's flu activity and this year's, particularly in the Southern Hemisphere, it's not looking good.
As the Center for Disease Control and Prevention (CDC) reminds us, flu vaccinations can significantly reduce a child's risk of dying from influenza. The more people that get vaccinated, the more very young kids, pregnant women, elderly folks, and anyone more vulnerable to the flu, will be protected as well. Of course, there are exceptions. Some people with certain allergies or health issues may not be good candidates for getting the flu shot, so it's best to consult with your medical provider.
Bottom line? If you're medically able, get the vaccine as soon as you can for yourself and your kids and tell the flu to bugger off.
This article was originally published on