Jesse Palmer Is The New 'Bachelor' Host But It Should Be Wells
by Christina Marfice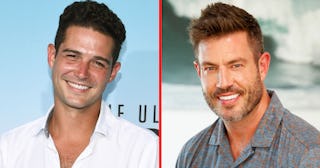 ABC
The Bachelor has announced its host for Season 26, and fans are a little confused by the choice
It somehow feels like it's been years, yet it was just yesterday that Chris Harrison, host of The Bachelor franchise and all its spin-offs, stepped down in disgrace after going on a racist rant on live TV. Ex-NFL player and Uncomfortable Conversations With a Black Man author Emmanuel Acho stepped in to replace Harrison for one show, and then two seasons of The Bachelorette have been hosted by fan-favorite ex-contestants Tayshia Adams and Kaitlyn Bristowe. The current season of Bachelor in Paradise has featured a rotating cast of celebrity guest judges (a format that's really working for that show, TBH). But with filming beginning on the season of the OG show, The Bachelor, that's coming up this winter, there have been questions about whether a permanent host would be named.
Well, it's finally happened. Jesse Palmer, a former NFL quarterback and the star of The Bachelor's fifth season in 2004, will be the host of the upcoming season.
Announcements have been carefully worded to say that Palmer is only the confirmed host of Season 26, so there are still some lingering questions about whether he's going to be the permanent host of the franchise's many spin-offs. But insiders told Variety that the plan is for Palmer to become a permanent fixture for all the shows.
Bachelor fans just have one question: Why isn't it Wells Adams?
Wells is a past contestant on the franchise (now engaged to Modern Family star Sarah Hyland). He's been a fan-favorite candidate for the hosting job since it was announced that ABC was looking. And making the announcement that Wells isn't the new host on the same day that he took his turn as one of the celebrity guest hosts on Paradise has fans confused and more than a little disappointed.
But what we've learned from the number of scandals that have rocked this show, and its continuing popularity after each one, is that Bachelor Nation is a resilient group. While this new host certainly feels out of left field, it actually makes sense for the network — his work as an analyst on ESPN creates a bridge between that channel and The Bachelor, which is one of ABC's most lucrative shows. We know that ABC is all about expanding their audience, and if Palmer can help bring ESPN viewers and football fans into Bachelor Nation, well, we'll know exactly why the higher-ups made this move.
This article was originally published on