This New Size-Inclusive Barbie Clothing Line Is Pure Vintage Magic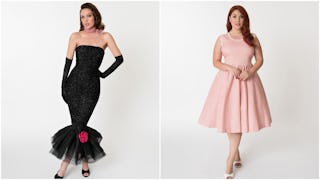 Image via Unique Vintage
You can dress just like vintage Barbie with this new size-inclusive clothing line
Remember how cool Barbie used to dress? I'm talking old school Barbie, with her little scarves, striped bathing suits, and all those long black gloves. Well, you can now dress exactly like the vintage doll with a new clothing line that replicates her most glamorous outfits, plus a whole array of accessories (you can and will pull off those wide-brimmed, floppy hats).
The clothing line Unique Vintage teamed up with Mattel to create a fashion collection that will make you feel equal parts Grace Kelly and straight up life-sized barbie doll. It's size-inclusive (you can buy up to 4x) and the clothes are sorted by different eras. Want to look exactly like Barbie from the 1950's? Done, done, and done.
First up, we've got this classic glittery cocktail number, complete with removable spaghetti straps and a flared mermaid tulle bottom. It rings in at $134 and was inspired by a Barbie dress released in the 1960's. I'm not quite sure what occasion will call for a show stopping number like this, but I feel like you can make it work however you want. Who says you can't go grocery shopping dressed like a 1960's life-sized doll? NO ONE.
If you want to keep it a little more polished and professional, we've got this trés chic luncheon dress and jacket. Replicated from a 1966 Barbie outfit, this ensemble includes a pink satin bodice, hip-hugging pencil skirt, and a sparkly rhinestone broach. It's utterly Jackie O., and we're obsessed.
Bring on allllll the dark, swishy glamour. This life-sized reproduction of a 1962 Barbie ensemble comes complete with a full swing skirt, a double breasted bodice, and plenty of attitude. Also, the floppy hat will make you feel like you're an undercover spy from an old time-y movie which is pretty much the life we should all be living right about now.
Helllloooo summertime. This gingham sundress, replicated from a 1959 Barbie outfit, screams picnics and lemonade and sitting by the pool. Can it get warm immediately so we can all sashay around in this number? Please?
You will do lots of Marilyn Monroe wiggling in this nautical, body hugging cuteness. It's inspired by an outfit worn by Barbie in 1959, and comes equipped with comfortably stretchy fabric (hallelujah).
There's literally nothing sexier than a red dress with some fire red lipstick to match. Slip into this replication of Barbie's 1961 ensemble, and you WILL feel like a vintage siren. Dirty martini and smoky piano bar required.
Bring on all the soda shoppes and milkshakes. This plus size swing skirt — complete with Barbie silhouettes — screams 1950's cuteness. All you need now is a sock hop and a drive-in movie theatre. Danny Zuko, where are you?
Now, go live your very best life-sized Barbie life possible. Tyra Banks has nothing on you.