My New Co-Workers Are Freaking Terrible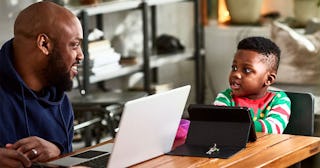 10'000 Hours/Getty
I'm not one to talk trash, but my new coworkers suck. They keep asking for snacks. One asked me to make her lunch, and the other has done nothing but stream Boss Baby all day. Booger eating. Peeing with the door open. Crying. Totally unproductive. These people should be fired. And no, I'm not talking about the people in my work office. I'm talking about my kids.
I know some of you who have been working from home for years have no pity for those of us suddenly trying to type our work emails at the kitchen table with a child screaming for one more snack, and rightly so. You have been dealing with this crap for some time. But for many of us working parents, to suddenly be shoved into working from home with our children not in school is a total shit show. It's an adjustment for sure.
Here are a few of the challenges.
Holding Online Meetings
I manage tutors for a university athletics program. I had a Zoom meeting with about 25 student tutors in attendance. My house is a disaster because the kids are home and I don't have time to fight with them to clean because I'm working. My laptop doesn't have a strong enough processor to give me a custom background. All this means I had to hold the meeting in a closet to stay away from the kids. Sure, it was a large closet and I told my student workers it was a home office. But there's no ventilation, so it's freezing in there. And despite warnings to my family that I was holding an online meeting, guest appearances included my ten-year-old daughter asking for a snack, my five-year-old asking for some paper for a drawing, and my wife, who forgot I was having a meeting.
Getting Actual Work Done
I used to take breaks at work and go for a walk. Now I take breaks at work to stop fights, make lunch for the kids, and kiss bumped knees. The other day I spent 20 minutes wandering my neighborhood looking for our dog because my five-year-old let him out. Not productive. It seems like my kids don't understand boundaries, and when I say "I can't right now, I'm working," they hear, "Ask dad more questions until he can't keep up with his job responsibilities and gets fired. Then he will be able to give us his full attention."
Screen Time Limits
We had some pretty stringent screen limits in our house before the pandemic. Kids had to earn their time by doing chores. It was all very organized and the kids knew we meant business. But not anymore. I'm usually all for following guidelines from APA, but right now their screen time limits can suck it. If parents suddenly working from home are going to survive this shut down, it's going to be with a heavy dose of Disney+.
An Inadequate Supply of Sweatpants
My wife asked me why I was doing more laundry, and I said, "I'm out of clean sweatpants. I need them for work tomorrow." She made a snide comment, but I didn't care because I now wear sweatpants to work. So yeah, if there's a silver lining in this pandemic, it's sweatpants. I've never needed more sweatpants, but if I'm going to be working from a closet at home, I might as well be wearing sweatpants, am I right? I ordered some more from Amazon, but they are all backed up on deliveries, so it's going to be a week before my new work outfits arrive.
Getting Any Peace and Quiet
I've been getting up before God created the earth to get started on work. And for the first couple of days, it worked. I had the house to myself. The family was sleeping. I was ghost-quiet. But somehow lately, the kids have felt my presence. They smell me working, or something, so now they are just getting up earlier. All of this really frustrates me, considering the epic struggle that is getting them out of bed for school. Perhaps I'll be going to bed later now. Perhaps that is the answer. Perhaps there isn't an answer. The kids are always one step ahead. FML.
I am sure to discover more challenges to working from home with kids as this pandemic continues. I've only been at this for a couple of weeks. But I must say, as frustrating as it all is, I'm surprised by how much time I am spending with my family now. Sure, it's not ideal time. I suppose nothing with family and work ever lines up perfectly. But I am seeing their cute, grubby little goober faces more often. And that is always wonderful, even when it is frustrating.
This article was originally published on