Here's A Look At The New Generation Of Congresswomen On Their 1st Day In Office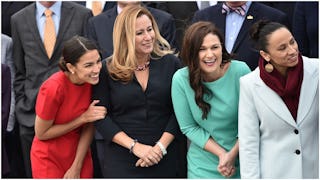 Image via MANDEL NGAN/Getty
The new generation of congresswomen started work today and their pictures will make you feel all kinds of hopeful
There's a rainbow on the usually bleak White House horizon. A record number of women were elected during the 2018 midterm election and they're all getting sworn into office today. The new generation of congresswomen have been taking to Twitter and Instagram to share pictures and videos from their first day on the job – and it will make you feel very, very hopeful.
There's so many goodies to pick from, but let's start with Ilhan Omar, who will be representing Minnesota. Her dad took over her Instagram to share an incredibly sweet, moving message about his daughter.
"Twenty three years ago, my family and I arrived at an airport in Washington DC. We were newly arrived refugees in this country, from a refugee camp in Kenya. I had heard about the promise of America, prosperity for all and hope for a better tomorrow," he wrote. "I could never have dreamed that twenty three years later I would return to the same airport with my daughter Ilhan by my side, the day before she is to be sworn in as the first Somali-American elected to the United States Congress."
Oh yeah, and then Omar took to Twitter to share THIS unbelievably amazing portrait along with the caption "they ain't ready" and be still my bursting heart.
Ayanna Pressley, who will be representing Massachusetts, shared a collage of her whole election journey. "To the disrupters, persisters & believers- together we issued a mandate for HOPE," she wrote. "I am so honored to do this work with you. Washington, here we come."
Alexandria Ocasio-Cortez, our favorite politician from the Bronx and Instagram stories superstar, posted a picture of her brand-new office plaque. "It's the little things that make it feel real," she captioned the snap. "Everything for the Bronx and Queens."
Meanwhile, Lauren Underwood, who is representing Illinois, was in the middle of giving a welcoming speech on Twitter when she paused to take her very first call from a constituent.
"Are you ready to make history today?" New Mexico's Congresswoman Deb Haaland tweeted.
The look on Michigan's new congresswoman Rashida Tlaib's face is everything.
Also can we take a moment to appreciate this drawing she shared of some of the new congresswomen? "This is beautiful," Tlaib wrote. "I love that we are barefoot, and strong. I can't wait to serve with my sisters."
And even though Katie Hill, congresswoman from California, struggled to get into her office on the first day, we were still cheering like hell for her.
And Debbie Mucarsel-Powell, congresswoman from Florida, tweeted that she's ready to get this government shut down over with. Amen to that.
Twitter was cheering on their new generation of congresswomen and everyone seemed very, very hopeful for what's to come.
Well, it's officially a new day in Washington D.C. Let's do this.