It's Officially Girl Scout Cookie Season -- And There's A Yummy New Cookie
by Cassandra Stone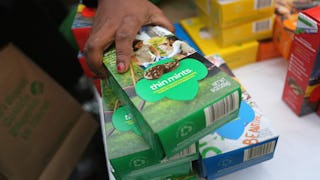 Image via John Moore/Getty
It's the most wonderful time of the year: Girl Scout Cookie Season
Sorry to all the New Year's resolutions out there (the diet-y ones anyway ), but it's officially Girl Scout Cookie season, y'all! As if that weren't exciting enough — and it is — there's a new cookie flavor this year.
To which we say: Bring. It. On.
January 2nd marks the beginning of the cookie-selling season for the Girl Scouts. There are currently 10 varieties of sugary, buttery, delicious Girl Scout goodness to choose from.
Basically, if there's a dessert flavor combo you're fond of, they've got it: Thin Mints, S'mores, Caramel deLites/Samoas, Peanut Butter Patties/Tagalongs, Shortbread/Trefoils, Do-si-dos/Peanut Butter Sandwich, Lemonades, Savannah Smiles, and Thanks-A-Lot are all available, as usual.
But this is also the inaugural year for Caramel Chocolate Chip cookies, the latest cookie to be added to the famous lineup. These beauts feature rich caramel, semi-sweet chocolate chips, and a hint of sea salt. Plus, they're gluten-free.
The other gluten-free flavor offered by the Girl Scouts is Toffee-tastic. So now those with gluten-sensitivities can enjoy not one, but two new flavors of yummy cookies this year. Because the Girl Scouts are just awesome like that.
"The Girl Scout Cookie Program plays a powerful role in developing financially savvy girl leaders," Girl Scout USA CEO Sylvia Acevedo says in a press release. "Girl entrepreneurs learn valuable interpersonal and business skills via the cookie program that help them become successful in their future careers, no matter what path they choose."
Now that the holidays are over, and everyone's Seasonal Affective Disorder is in full swing, we could all use a box (or ten) of these babies to see us through until spring.
Now go find your nearest Girl Scout and give her all of your money. She deserves it — and you deserve those cookies.