The First New Hallmark Christmas Movie Of 2019 Premieres Tonight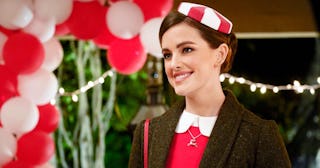 Hallmark
'A Merry Christmas Match' is the first new Hallmark Christmas movie of the year — and it's airing tonight
Did you already have plans tonight? Well go ahead and cancel them because A Merry Christmas Match is premiering on the Hallmark Channel. It's their first new holiday movie of the 2019 season (there's a total of 40!) and it looks totally adorable, so honestly, there's nothing else you need to do on a Friday except watch and sigh with holiday happiness.
The new movie stars Ashley Newbrough and Kyle Dean Massey and of course, there's going to be drama, romance, and lots of holiday decor.
"Corey lives in a ski village where she works at a local antique shop. When recently named Christmas Catch Ryder comes into her shop, sparks fly and she starts to wonder what could be," reads the movie's description.
I mean, when the Christmas Catch comes knockin' it's probably wise to at least consider what he has to say.
And consider she does. Y'all — there's so much drama even in these bitty previews. I'm popping my popcorn hours in advance.
Will Corey keep running her dad's shop or will she try to forge a whole new life of her own as the theater director she always wanted to be? You will only know if you watch and we highly suggest you do.
You know you want to follow the movie's hashtag on Twitter and talk Hallmark Christmas movies with your fellow Hallmark fans.
Happily, this premiere is far from your only chance to snuggle up on the couch with a hot cocoa (or holiday-themed cocktail) to watch the festive fun unfold. The channel will be airing new movies every Thursday and Friday from now until the end of December.