New Hampshire Is Latest State To Allow Employees To Bring Their Infant To Work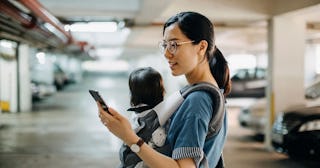 Getty/iStock
New Hampshire becomes fifth state to let government workers bring their infants to work with them
As childcare costs in America continue to skyrocket (some parents spend as much on daycare as they do on rent!), a few states are doing something about it by letting government employees bring their infant children to work with them. Starting January 1, 2020, New Hampshire state employees are eligible to bring their babies to work with them.
Each state department or agency has to elect to participate, but WMUR reports that Governor Chris Sununu signed the executive order on Monday and already 20 departments have opted in. Infants between the ages of six weeks and six months are eligible and in order for any New Hampshire state employee to participate, the worker needs authorization from their HR office and an "individualized plan" for the infant. As long as there's no safety hazard and the infant causes "limited disruptions" in the workplace, they're good to go.
"This initiative can provide working families with options to give their kids the healthiest possible start to life while allowing them to remain in the workforce if they choose to do so," Sununu said at a news conference, while adding that he hopes the new policy attracts millennials into state departments.
All employers that participate must include one diaper changing station and supervisors must allow lactating mothers flexible schedules to breastfeed. Shawn Hamilton works in the Division of Parks and Recreation and told WMUR that "thinking of my daughter going to a day care so young is something that I have been concerned about" and is looking forward to this new program.
Arizona, Kansas, Nevada, and Washington already have "Infant at Work" programs and CBS Sacramento reports that Arizona launched their "bring your baby to work" program in 2016 and it's going great.
"Our program has hosted close to 200 babies," the Department of Health Services stated (via CBS). "We've witnessed a positive boost to employee morale as our babies and coworkers enjoy having a baby in the office."
Anything that supports working parents and helps lift the burden of daycare costs is a great thing, however, paid family leave and government subsidized daycare costs could also help, and then parents wouldn't have to juggle both parenting and working simultaneously. However, programs like the one New Hampshire just implement do help ease the transition from parental leave back to work, so here's to more states following in their footsteps.