A Giant Unicorn Sprinkler Exists Because Sometimes We CAN Have Nice Things
by Julie Scagell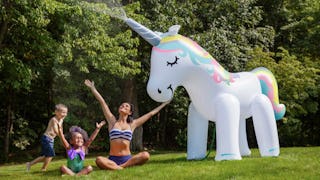 Image via BigMouth Inc.
Stay cool under a giant inflatable unicorn sprinkler this summer
If you're counting down the days until summer (and who isn't after this winter), and stocking up on all the season's necessities, you'll most definitely need a new bathing suit, some sunscreen, a whole mess of burgers for the grill, oh, and of course a giant seven-foot inflatable unicorn that sprays water from its horn.
Wait, what?
Behold: such an item actually exists. Lifestyle product manufacturer BigMouth, has created a gargantuan inflatable, vinyl unicorn to keep you cool all summer long and "take your summer game to the next level." The BigMouth, Inc. Ginormous Unicorn Sprinkler retails for $49.99 and it's everything you think it would be, and more. Simply connect it to a standard hose and bam — you have hours of unicorn-filled fun in the sun.
According to Target's website, the sprinkler is "nearly 7 feet tall and sprays water out of its trademark horn to keep the kids cool at birthday parties, backyard BBQs, and poolside retreats." Hell, forget the kids, mama's gonna sit under this mythical, one-horned creature with a gin and tonic in hand and a sleezy romance novel in the other. Congratulations kids, you get one more hour of screen time. Beat it.
If you're thinking, "one unicorn simply won't be enough this summer," consider pairing your sprinkler with a giant unicorn pool float that seats up to six people, enough for a magical water party. Because who doesn't want to float around inside a magical beast that has inbuilt cupholders? Inevitably with all this magic, someone at your water party is gonna need to poop. Luckily there's a unicorn for that, too.
If unicorns aren't your jam, you can also cool off under a giant green dinosaur if you'd prefer. Because nothing says relaxation like being sprayed in the face by a menacing-looking neon green T-rex.
There's also an adorable blue elephant that sprays water out of its trunk, perfect for the little kids (and gin and tonic-drinking crowd too).
We recently moved into a new neighborhood and I'm considering investing in all three to water our lawn this summer. Nothing says "crazy new neighbors" like leaving a bunch of ginormous inflatable animals on your lawn all summer. I'm pretty sure this will guarantee us invites to all future block parties.
Regardless of how you use them, these sprinklers will most definitely make your summer a whole lot cooler.