New Jersey Park Official Calls Cops On Mom For Breastfeeding In Public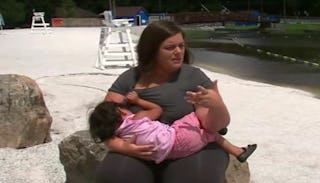 Image via YouTube/ABC7
Breastfeeding in public is legal in all 50 states, but this official still called the police
A New Jersey mom says a town official called the police on her after she refused to cover up while breastfeeding her two-year-old daughter in a local park.
Michelle Ayala was feeding her daughter, Daisy, while visiting the Franklin Pond Beach last week when the official, a woman from the park's recreation committee, apparently told Ayala to cover up. "She said, 'I see what you're doing there, do you think you can do that somewhere else?' And before she finished, I said, 'Legally, I'm allowed to nurse wherever I am,'" Ayala tells NBC 4.
Public breastfeeding recently became legal in all 50 states — and prior to that, New Jersey law has allowed women to nurse wherever the hell they want since 1997. But because this is the Year Of Our Lord Two Thousand And LET'S CALL THE COPS, the park official did just that. Raise your hand if you're all for some sort of special tax being bestowed upon citizens who unnecessarily waste their local police department's time by calling them and utilizing their resources in completely banal situations.
Luckily, the responding officer was familiar with his state's breastfeeding laws. "He said, 'I support you completely. Thank you for your time, thank you for your patience. I know this is silly, these are your rights and are you okay?'" Ayala says.
So that's where it ends, the baby gets fed, everyone goes home wiser and the end, right? LOL no. The park committee administrator, Alison McHose, approached Ayala after the officer left, and told her that while she supported her "right to breastfeed," she also asked her to cover up. Ayala stood her ground and told the woman she knows she has the right to nurse wherever, and whenever she wants. McHose said in a statement to the New Jersey Herald that they were trying to make the beach a "family-friendly area that is welcoming and accommodating to all."
Oh really? You know what's super accommodating to families? Letting mothers feed their babies when their babies are hungry. And if you don't know, now you know — covering up your chest (and ergo the baby's face) with a blanket in the middle of summer is literally the most uncomfortable and sweaty experience for both mom and baby. Do you want to eat your lunch with an afghan over your head in the middle of August? No? Doesn't sound too appealing, does it? So why don't we just let hungry babies who are breastfed enjoy their mother's milk in peace? Breastfeeding babies should be looked upon as one of the most normal sights human eyeballs can behold, and Puritan Paulas do nothing to further that cause.
Ayala said that she's sharing her story to help other moms who may be too intimidated to breastfeed in public. She also organized a nurse-in protest at a free beach nearby to help promote the idea that nursing mothers have every right to feed in public and not be milky prisoners in their homes for the duration of breastfeeding.
"There are nursing mothers out there who are brand-new, and if someone came up to them [who is] that important in a suit and nice wedges, and confronted that brand-new mom, she would never nurse again," Ayala said. "Or, she would just stay in her house, with all her children."
This article was originally published on