New Jersey Has Officially Added A 'Gender Neutral' Option To Birth Certificates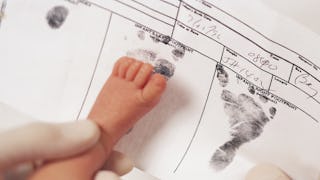 Image via Getty/Comstock
This new law helps bridge the gap of equality for nonbinary and transgender individuals in New Jersey
As of February 1, parents in New Jersey will see a third option for gender on their babies' birth certificates. There will still be a male and female option, but the third option is for a non-binary, gender-neutral option.
The intent is that this will make it easier for nonbinary and transgender people to change their birth certificates to coordinate with their gender identity. Under previous law, residents in New Jersey could only amend the gender listed on their birth certificate if a doctor certified that the person had undergone sex reassignment surgery.
According to NBC News, New Jersey governor Phil Murphy signed the new legislation, The Babs Siperstein Law, last summer. At the time of the signing, he said the bill was an important, progressive move forward.
"Today is an important day for New Jersey as we continue to strive toward equality for all of our residents, regardless of sex or gender expression," he said last July. "Allowing vital records to match gender identity is an important step forward that will allow transgender individuals to control the disclosure of their transgender status."
When a child's birth gender doesn't match their gender identity, transgender children face discrimination, bullying, and harassment — even if the law requires schools to treat students by their preferred gender in the state of New Jersey.
"You often use a birth certificate to enroll in school. Until you have a license that is your ID," Aaron Potenza, policy director of Garden State Equality, tells TODAY. "For people under 16, they often have to show their birth certificate, and they are coming up against issues."
When a person identifies as nonbinary, it means they don't identify as male or female. Having a third, "gender neutral" option on birth certificates can help them when it comes to similar issues. The new law not only allows for the third option, but it also makes it easier for those who wish to change their gender on their birth certificates.
People of any age in the state of New Jersey can also now change their gender to the gender they identify with without having to show proof of sex reassignment surgery. For transgender children, this is especially important because surgery isn't an option for them. Furthermore, there are plenty of transgender individuals who choose not to have surgery — so now they aren't at risk of being misgendered.
Heartbreakingly, 40% of transgender individuals attempt suicide. Rejection from family and peers, in addition to discrimination and harassment all contribute to the risk of suicide in the transgender community. On the flip side, transgender people who feel supported by their family and community are 82% less likely to attempt suicide.
Which just makes laws like this one in New Jersey even more crucial to get passed in more states. New Jersey is now the fourth state to include a gender-neutral option on birth certificates, joining California, Oregon and Washington.