Rejoice, Parents-To-Be! Baby Boxes Are Coming To The US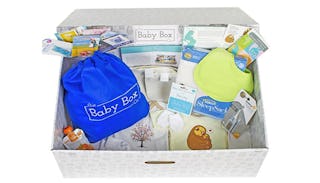 Image via Baby Box
New Jersey becomes first state to give Baby Boxes to new parents
Pregnant parents in New Jersey, rejoice. You can now cross a ton of things off the list of items you need to buy before the baby arrives. The state Child Fatality and Near Fatality Review Board announced this week that they are partnering with LA based company Baby Box to provide a large cardboard box stuffed with essential items such as diapers, wipes, a onesie, breast pads and nipple cream to new parents.
If that wasn't cool enough, the box is designed to double as a safe sleeping space for the first few months of the baby's life. Looks like that pricey bassinet is no longer necessary.
The idea of gifting new parents with baby boxes started about 80 years ago in Finland. The Finnish government started the program as a way to improve the nation's high infant mortality rate. Now Finland boasts one of the lowest infant mortality rates in the world at 1.3 deaths per 1,000 births.
The U.S. ranks 23rd in the world for infant mortality, with 6.5 infant deaths per 1,000 births. Many of those deaths are the result of SIDS. In 2016, 93 percent of the deaths that were attributed to SIDS were associated with sleep complications. It's the hope of the NJ Child Fatality and Near Fatality Review Board that this program will help reduce the number of infant deaths associated with SIDS.
The boxes are being given out in part with help from a grant from U.S. Centers for Disease Control. It's anticipated that the state will be able to deliver around 105,000 baby boxes in 2017. In order to obtain their free box of goodies, parents have to go through a simple three step process. First they must register online. Then they must read online materials on newborn care and complete a short quiz. Once they complete the quiz they can decide if they want to pick up their baby box or have it delivered. Simple, right?
For now expectant parents outside of New Jersey who are looking to get their hands on a baby box will have to buy their own. But hopefully New Jersey will be the trailblazer and other states will soon follow its lead. A cardboard box, some diapers and a few baby essentials isn't much, but those items are all a baby really needs for the first few months of life. Providing these simple things for a family could really get them off on the right foot.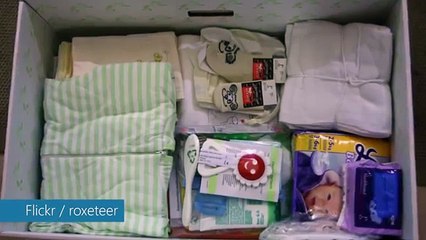 This article was originally published on