Every State Should Require All Public Schools Teach LGBTQ History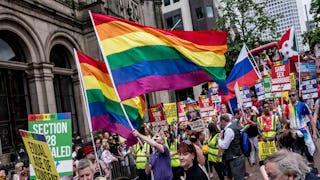 Image via Getty Images/ Jim Wood / Barcroft Images
The goal is to teach historical achievements of those in the LBGTQ community
New Jersey is officially the second state in the U.S. that will require schools to teach LGBTQ history in all public classrooms. This is being celebrated by civil rights groups as an important step forward toward inclusion for all.
New Jersey Gov. Phil Murphy (D) signed the new legislation into law this week, making good on his promise to promote equality for all LBGTQ people during his campaign.
"It's critical that our classrooms highlight the achievements of LGBTQ people throughout history," Christian Fuscarino, the executive director of the group Garden State Equality, said in a statement. "Our youth deserve to see how diverse American history truly is — and how they can be a part of it one day, too."
Specifically, the bill requires "boards of education to include instruction, and adopt instructional materials, that accurately portray political, economic, and social contributions of persons with disabilities and lesbian, gay, bisexual, and transgender people."
New Jersey is the second in the country to enact such legislation — California did so in 2012 when it passed the FAIR Act requiring better representation of the LGBTQ community. The new policies will go into effect in New Jersey during the 2020-2021 school year.
"By learning about LGBTQ people who have made amazing contributions to their country, they are seeing possibilities for themselves and hope for the future," Fuscarino said.
Some conservative organizations believe this is in direct opposition to the role of parents who wish to teach their beliefs at home, infringing on their rights. "We believe it further erodes the right of parents to discuss this sensitive issue with their children, if in fact schools are going to be promoting and making the claim that this particular person was an LGBTQ member," Len Deo, president of the New Jersey Family Policy Council, said.
But if history complied with the wishes of oppressors, we'd never know the stories or impact of trailblazers like Martin Luther King Jr., Anita Hill, Anne Frank, and Virginia Woolf, to name a few.
The new law requires the state's boards of education to "provide instruction on the political, economic, and social contributions of persons with disabilities and lesbian, gay, bisexual, and transgender people in an appropriate place in the curriculum of middle school and high school students."
This isn't the first bill Gov. Murphy has signed into law to protect members of the LGBTQ community. Over the summer, he signed legislation allowing transgender people the legal right to alter the sex recorded on their birth and death certificates.
"New Jersey will continue to stand with our LGBTQ residents in the continued pursuit of similar rights nationwide," Murphy said.
This is one more giant step forward toward educating people from an early age to celebrate diversity and inclusion for everyone and to appreciate the impact the historical achievements the community has made.